I love baked potatoes, but it seems like it takes forever to make them! This recipe solves that problem!
This tasty finger food makes the perfect appetizer right before the main course is served.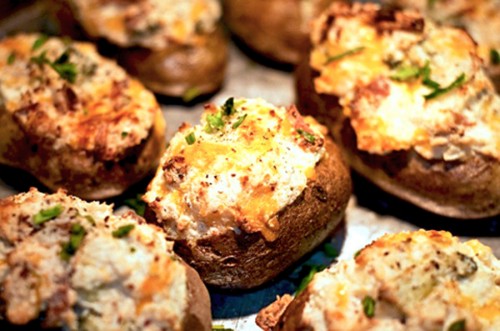 24 baby Yukon Gold or red potatoes (small russets work too – but they are usually too big)
2-3 TBSP extra virgin olive oil
2 tsp. freshly chopped Thyme
4 oz. pancetta or applewood smoked bacon, cooked-crispy and crumbled
5 TBSP chives, finely chopped
1/2 Cup creme fraiche or sour cream
1/2 Cup Parmigiano-Reggiano, coarsely grated
Salt and pepper
Preheat oven to 425 degrees.
Wash, dry potatoes and place on a large baking sheet.  Toss with olive oil to lightly coat potatoes.  Sprinkle with half of the fresh Thyme, salt and pepper.  Toss.  Bake potatoes until they are very tender when pierced with a skewer or tooth pick… approximately 20-25 minutes.  Remove from the oven and allow to completely cool.
Increase oven temperature to 450 degrees.
Make sure potatoes are cool enough to handle.  Cut the top 1/4 of the potato off. Discard tops.  Use a small spoon to gently hollow out the inside.  Scoop the potato flesh out and transfer it to a large bowl. Mash the potato flesh with a fork or masher. Combine it with bacon or pancetta, chives and creme fraiche and the remaining Thyme. Season to taste with salt and pepper.
Again, carefully using a small spoon, gently fill each hollowed potato with the filling.  Use your fingers to ensure it's all the way inside and it should be slightly mounded at the top.  Sprinkle with Parmigiano-Reggiano.
Make sure all potatoes are facing up on the baking sheet and return to the oven.  Bake an additional 8-10 minutes until filling is completely heated.  Sprinkle with the remaining chives.  Serve immediately while warm.
Recipe contributed by Charles DeJesus, formerly a culinary specialist in the United States Navy.  This tasty appetizer is inspired by Recipe Source: http://laurasbestrecipes.com/2010/01/mini_twice-baked_potato_appetizers/