Can't you just taste the creamy butterscotch oozing right through your computer screen and into your mouth.
This cake is great for cold weather and the holiday season.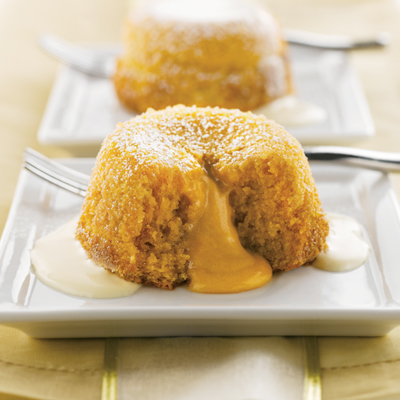 Ingredients:
1 Cup of Butterscotch Chips
1/2 cup of Unsalted Butter
4 Eggs
2 Egg Yolks
1/2 cup of Brown Sugar
1/4 cup of Granulated Sugar
1/2 cup of all Purpose Flour
1/2 tsp. of Vanilla Extract
1/4 tsp. of Salt
2 Tbsp. of Ground Graham Crackers
Directions:
1) Preheat your oven to 450 degrees. Spray 6 6oz ramekins with non stick spray, sprinkle 1 tsp of the crushed graham crackers in the bottom of each one and gently shake them around so some of the graham cracker crumbs coat the sides of the ramekin, set aside.
2) In a small saucepan over low heat, add the butterscotch chips and butter and just cook them together until the butter and the chips are just melted, allow the mixture to cool a bit (do not panic if they split, they will come together in the batter)
3) In a large bowl, whisk together the eggs and egg yolks, add both sugars and vanilla and whisk them together until the sugars are blended well with the eggs.
4) Add the flour and melted butter and chips mixture and whisk everything together until your batter comes together and it looks smooth and well combined.
5) Divide your batter evenly among the ramekins, bake them for 12 to 13 minutes or until the tops look set but the center is still a bit wobbly.
6) Allow them to sit for 2 minutes, invert onto a dessert plate and serve them with vanilla ice cream
Recipe contributed by Charles DeJesus, formerly a culinary specialist in the United States Navy. Recipe  This recipe is inspired by Chef Laura Vitale. Source:  http://www.laurainthekitchen.com/recipes/molten-butterscotch-cakes/