Most people that I know, aren't aware that there's a broiler in their home. Most consumer ovens, typically have them on the bottom where you might store extra cooking pans. Electric ovens might have them on the top rack. I find broilers an easy way of cooking and it adds a unique flavor  to food.
Here's a broiled steak recipe I found to be delicious!
Broiled Black Pepper Sirloin Steak
Ingredients:
Extra-virgin olive oil
1 1/2 lbs boneless sirloin (steak)
coarse salt
1 tsp black pepper (ground)
1 onion (cut in half and sliced)
1 tbsp unsalted butter
1/3 cup red wine vinegar
Directions:
1. Preheat oven to broil.
2. Place 12-inch cast-iron skillet under broiler for 2 minutes.
3. Brush olive oil onto steak. Season both sides of steak generously with salt and freshly cracked black pepper.
4. Add the steak to the heated pan and broil for 8 1/2 minutes.
5. Transfer steak to a plate to rest. Heat steak pan on the stovetop over medium heat.
6. Add onions and butter. Stir and cook until browned, about 6 minutes. Pour in vinegar and stir to scrape up browned bits on bottom of the pan. Let vinegar simmer until reduced, just about 1 minute.
7. Pour any steak juices from the resting steak into the pan. Transfer the steak to a cutting board and slice into 1/4-inch slices. Lay the steak slices on a platter and pour the sauce over top and serve.
Sweet and Red Potato Mash
I had this recipe with a broiled steak and I didn't know which one I liked better. I substituted yogurt instead of sour cream for the mash, and coconut oil and milk instead of butter.
Ingredients:
2 pounds red potatoes with skin, cut in 1 inch pieces
1 pound sweet potato, peeled, cut in 1 inch pieces
1/2 pound celery root (celeriac), peeled, cut in 1/2 inch pieces
4 garlic cloves, divided
Salt
3 tablespoons unsalted butter, room temperature
1 cup whole milk Greek yogurt or sour cream
1/3 cup finely grated Parmigiano cheese
Freshly ground black pepper
Sage leaves for garnishDirections:
Combine potatoes and celery root in a large pot. Peel and smash 3 garlic cloves. Add to the pot. Cover with cold water. Bring to a boil. Reduce heat, cover and simmer until potatoes are very soft. Drain. Return to pot and cool slightly. Mince the remaining garlic and add to the potatoes. Add butter and yogurt. Mash with a potato masher to desired consistency. Stir in cheese. Add salt and pepper to taste. Serve warm, garnished with chopped sage leaves.
Valentines day is coming up soon. You can impress that special someone by making them some of these. Enjoy a romantic dinner and serve chocolate covered strawberries for dessert.
Note: Try substituting the shortening for butter or coconut oil for more flavor.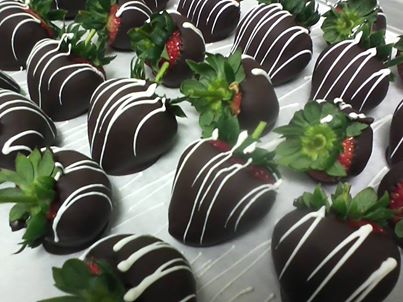 Chocolate Covered Strawberries
Ingredients:
In a double boiler, melt the chocolate and shortening, stirring occasionally until smooth. Holding them by the toothpicks, dip the strawberries into the chocolate mixture.
2. Turn the strawberries upside down and insert the toothpick into styrofoam for the chocolate to cool.
Recipes contributed by Charles DeJesus, formerly a culinary specialist in the United States Navy and, student at Southwestern College.