Note: If you overindulge this holiday season one of the best things you can have is soup. The salt helps replace sodium and potassium lost after drinking.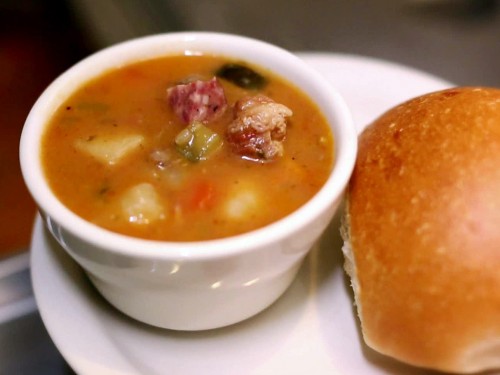 Hangover Soup
Ingredients:
4 strips bacon, chopped
1 cup finely chopped pork loin
1 small onion, finely chopped
1 1/2 cups crushed tomatoes
1/2 cup finely chopped mushrooms
2 tablespoons shredded celery root
4 stalks celery, chopped
2 medium carrots, peeled and chopped
Salt
3 cups cubed potatoes
1/2 cup chopped Polish sausage
2 tablespoons finely chopped leek
1 teaspoon allspice
1 teaspoon bay leaves
1 teaspoon Hungarian paprika
1 cup diced pickles
3 cloves garlic, finely chopped
1 tablespoon Eastern European seasoning, such as Vegeta, optional
3 tablespoons chopped fresh dill
Heavy cream
Directions:
1.Fill a soup pot with 8 cups water set on medium-high heat.
2.In a pan, fry the chopped bacon. When it is done, take out and put into the water in the soup pot.
3.In the drippings of the bacon, fry the pork loin and then the onions. When brown, put them into the soup pot and bring to a boil. Add the crushed tomatoes, mushrooms, celery root, celery, carrots and some salt and cook for 15 minutes.
4.Next, add the potatoes, sausage, leeks, allspice, bay leaves Hungarian paprika and cook for another 15 minutes.
5.Add the pickles, garlic and seasoning if using, and let boil for 10 minutes. Add the dill and heavy cream.
Recipe contributed by Charles DeJesus, formerly a culinary specialist in the United States Navy and, student at Southwestern college. Recipe inspired by Source.
Note: Growing up, my mom never cooked Brussels sprouts. The only knowledge I had of them were kids I'd see on TV complaining about them. When I tried one for the first time I thought they were delicious! I usually like them plain sautéed in coconut oil, but this sounds like a great recipe:
Roasted Brussel Sprouts with Baby Bella Bacon Bits
Ingredients:
1 1/2 pounds medium Brussels sprouts, trimmed, and halved lengthwise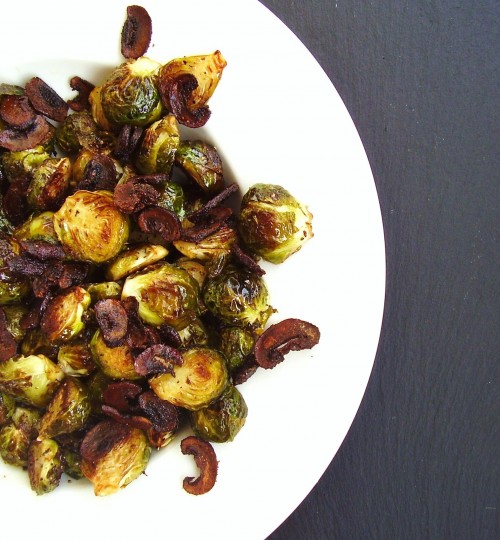 3 tablespoons extra-virgin olive oil, or to taste
1 teaspoon aged balsamic vinegar
3/4 teaspoon freshly ground black pepper
1/2 teaspoon sea salt, or to taste
1 recipe Baby Bella Bacon Bits (see below)
Directions:
1.Preheat the oven to 425°F. Toss together the Brussels sprouts, oil, vinegar, pepper, and salt in a large bowl. Transfer to a large rimmed baking sheet and arrange in a single layer, cut side up.
2.Roast until well caramelized and just tender on the inside, about 25 minutes, flipping over Brussels sprouts halfway through the roasting process. If desired, sprinkle with additional extra-virgin olive oil and sea salt.
3.Transfer to a serving platter or bowl, sprinkle with the Baby Bella Bacon Bits, and serve immediately.
Baby Bella Bacon Bits
Ingredients:
2 teaspoons turbinado (raw) sugar
1/4 teaspoon + 1/8 teaspoon sea salt
1/4 teaspoon + 1/8 teaspoon smoked paprika
1/4 teaspoon chili powder
1/4 teaspoon garlic powder
8 ounces crimini (baby bella) mushrooms, stems removed*, thinly sliced (1/8-inch thick)
2 tablespoons extra-virgin olive oil
Directions:
1.Preheat the oven to 275°F. Stir together the sugar, salt, paprika, chili powder, and garlic powder in a small bowl.
2.Add the mushrooms to a medium bowl, drizzle with the oil, and toss to fully coat. Sprinkle with the seasoning mixture and toss to fully coat. Arrange in a single layer on a large nonstick baking sheet.
3.Roast until reduced in size by about 50 percent and deeply caramelized, about 1 hour 15 minutes. There's no need to stir or flip over during roasting. Scrape up mushrooms with a spatula to make sure they're not sticking to the pan; rearrange in a single layer; turn off oven; and return to the warm oven for 45 minutes, to allow to crisp.
4.Remove from the oven and cool the baby bella bacon bits on the pan on a rack to allow to further crisp, at least 15 minutes, and serve. If desired, prepare and store in the refrigerator overnight; bring to room temperature before serving.
Recipe contributed by Charles DeJesus, formerly a culinary specialist in the United States Navy and, student at Southwestern College. Recipe inspired by:  Source