Lamman Rucker created quite a stir in his role as the dreamy eyed, fine chocolate brotha Sheriff Troy in Tyler Perry's film WHY DID I GET MARRIED.  Remember that hunk of a man who swept Jill Scott's character Sheila, and every other woman, off her feet?
After being cast in numerous film and television roles, the role of Dr. Will Brown, MD in Tyler Perry's hit TV sitcom "MEET THE BROWN'S," being the one for which Rucker is perhaps best known, next up the charismatic actor will take audiences to Church in the critically acclaimed film written, directed and executive produced by filmmaker Russ Parr, THE UNDERSHEPHERD. The film premieres on TV-ONE, Saturday March 30th, and Easter Sunday, March 31st.  Rucker shares the screen with a talented cast of Hollywood's finest, including:  Malinda Williams (SOUL FOOD), Isaiah Washington (GREY'S ANATOMY) and, Academy Award winner Louis Gossett, Jr.
THE UNDERSHEPHERD tells the controversial tale of two ministers played by Rucker and Washington, who, although originally best friends and brothers in Christ, find their relationship tested by access to power, money and greed.
Lamman, who plays Roland, takes time out to talk with The Chocolate Voice about his role in the soul-stirring and provocative film.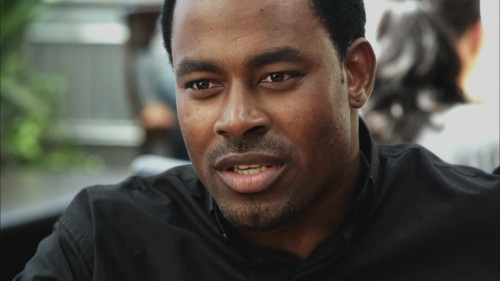 TCV: We're so excited to have this opportunity to talk with you, Lamman!  It is great to see the award-winning film, THE UNDERSHEPHERD is premiering on TV ONE!
TCV: How did you become involved with THE UNDERSHEPHERD?
LR: I've been a colleague of Russ Parr (director) for many years.  We've taken advantage of the opportunity to work together a couple times, but the timing wasn't in our favor.  However, this project was the one where Russ would always tell me, "When I'm working on this particular project, you better be available."  Luckily it worked out, and the rest is history.  Once we got a lot of people working on it, and the project gained some momentum, we realized we had something really dynamite on our hands.
TCV: You're actually a native of Pittsburgh, but you spent your formative years in Washington, D.C.  How would you characterize your own personal experience in the black church, and how have you used that experience as guidance for your portrayal of Roland, your character in THE UNDERSHEPHERD?
LR: There's nothing really specific, so I pulled from what I would do if I were a preacher.  I didn't try to model myself after anybody, I made the role out of somebody I knew and understood rather than imitating or recreating someone.  I prefer to approach characters from a personal perspective.  I've learned from young pastors in the church that if you didn't already know they were pastors, you wouldn't know at all.  I find that sometimes once you put a label like pastor or minister on somebody that they are expected to be a completely different type of person, so I try to characterize them as normal people.  I try to focus on the community aspect rather than the church aspect regarding ministers.
TCV: Since the film is focused on corruption within the church, what do you expect audiences to walk away with after watching THE UNDERSHEPHERD?
LR: One of the important lessons to learn is that all people are human.  They are given a lot of responsibilities and privilege, so we have to be careful to not idolize people too much because when you do that, you put them in an unfair situation where there are unfair expectations.  We must also realize that when we are in a position of power, we must not exploit that power.  That position of power should be used for serving others, not for getting rich and manipulating others.  I think sometimes we create the monster by elevating people into these positions and letting them do whatever they want with their power without any repercussions.  It's not always the institution of the church that is in question, it's certain people who need to be checked or even relieved of their duties because they have lost perspective.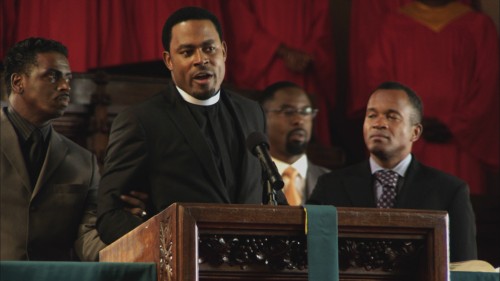 TCV: You graduated from Carnegie Mellon with a degree in Information Technology and business, and went on to earn a master's degree in Curriculum Development.  I know that your dad was a drummer, and your mom was involved in the arts as well, so I was wondering why you didn't pursue a degree in drama or theatre?
LR: I started with that, but I decided to switch gears because that's not the only thing I wanted to do.  The creative spirit can be applied in a variety of different places.  I integrate my creative spirit in all my endeavors, whether it is in acting, business, or philanthropy.  You don't need a degree in a certain field to participate in it, but I do believe you need training if you want to do something professionally, and I have been trained as an actor.  Both of my parents are scholars and artists, so the idea that the creative spirit can be included in all areas of life was always present in my upbringing.
TCV: I read that the net proceeds from THE UNDERSHEPHERD will be going to the Duke Ellington School for the Performing Arts in Washington, D.C., where you also attended.
LR: Yes, the screenings we did in the Washington, D.C. area were done in partnership with the school.
TCV: What is it like working with Tyler Perry?
LR: We've had a good time for a number of years.  I think it's cool that I was working with him at the time when he was working to solidify his brand, and that I was able to contribute to that and be a significant part of his success.  I'm glad I was able to serve him in that way, and also to serve his work.  I think he has a strong, positive voice, and that he is really trying to do something profound.  I highly respect his attitude of finding a way to make it happen and creating opportunities not only for himself, but also for other people.  His openness in talking about God and the family struggles of people of color is also particularly inspiring to me.  His goal is to portray real life within his movies and television shows.
TCV: What are you going to work on after THE UNDERSHEPHERD?
LR: One of my newest projects is called First Impression, in which I will be playing opposite of Lisa Arrindell Anderson (Tyler Perry's  MADEA'S FAMILY REUNION).  We play two folks who meet in person by chance, not knowing that we already know each other online.  It explores how we are different when we're together, and how different you are when you're not afraid to show somebody your true self.  It deals with the dating and relationship dynamics behind online dating and other issues like a woman making more money than a man, which makes many men feel uncomfortable.  Sometimes they make themselves out to be more than they are, because they feel they need to impress the woman, when what a lot of women want is for the man to be real.  It's a funny romantic comedy about what that process is like with these two people.  He actually finds out that he works for her, which he didn't know, and they're both forced to deal with it.
THE UNDERSHEPHERD, a thought-provoking film exploring power and corruption within the church, premieres Saturday, March 30 at 8 p.m. ET and Sunday, March 31 at 5:30 p.m. ET exclusively on TVONE.