MAKING 12 MONTHS IN 30 DAYS
(Los Angeles) After a successful fundraiser at Silverlake Wine on Saturday night, director/producer Charysse Tia Harper turns to Indiegogo  to complete 12 Months, a documentary about a Los Angeles man who is renting his home for $1 per month for one year to help a family in need. With two months to go, the team is raising funds to finish production and assist with post-production.
"The whole theme of this project is generosity," explains Harper.  "Tony showed generosity by sharing his home and I'm hoping the global community will do the same to ensure we can share his story."
12 Months is based on Tony Tolbert's decision to move in with his mother and rent his three-bedroom home for $1 per month to a family. When he asked Harper if she would be interested in documenting the experience, the project was hatched. Tolbert contacted Alexandria House, a non-profit organization in Los Angeles that offers transitional housing for women and children. He worked with the founding director, Judy Vaughan, to identify a family who would benefit from the experience. Vaughan introduced him to Felicia Dukes, a single mother with four children (ages 20, 12, 10 and 3).  Under the rules of Alexandria House, Dukes' adult son was not able to live with the rest of the family.
"We were there to capture Felicia and her family moving into the home," reminisces Harper. "It was such an uplifting experience to see everyone reunited under one roof again."
Tolbert, a Harvard Law graduate, is Associate Director of Admissions & Outreach for UCLA Law School. UCLA's Black Law Students Association and For People of Color, Inc. have recognized his generosity. CBS This Morning and the Los Angeles Times have interviewed him. On Wednesday, Oct. 16, he appeared on Pivot TV's TakePart Live, a show that uses topical issues to encourage young people to take action.
"Tony has really been instrumental in bringing this whole thing together. Though he dislikes the limelight, I encourage him to do media-related events as I feel people really want to know what drove him to do this . . . and it really helps spread the word about the documentary!" exclaims Harper.
Harper plans on filming 10 more days. The story will focus on Felicia Dukes and her children's transition during their year in Tony's home. Footage will include Tony and his family, programs offered by Alexandria House and a trip to Atlanta that will introduce the family that inspired Tony to rent his home.
"This story is built on charity and I hope that same virtue will allow us to finish the project," says Harper.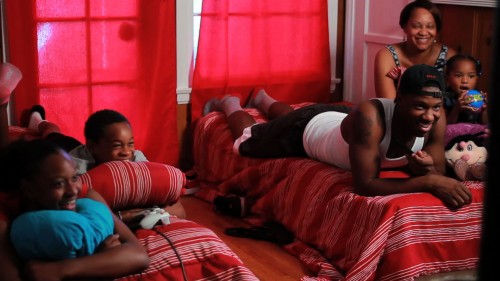 The 30-day 12 Months Indiegogo campaign kicked off on Sunday, Oct. 13th. The final day to donate is Tuesday, Nov. 12th 2013 @ 11:59PST. http://www.indiegogo.com/projects/12-months