Hey ya'll, Crockett, Texas has a Mayor named Dr. Ianthia Fisher. And she's a Black woman! Making her the first to hold a key position in leadership for the city located just 110 miles outside of Houston.
We just happened to be in town for a reunion and unexpectedly ran into Fisher and her sister Brenda Atchinson, early one morning at one of the main hotels in Crockett, where many out of town guests stay while visiting for special week-end gatherings.  On this particular week-end in October, there were several events going on in the city. The hotel was poppin' with Black folks. Some who grew up in the small town and had left to bigger cities, all of which were hyped up to spend some time quality time in the country with friends and family.
Unexpectedly, well for us it was (unexpected), we bumped into the genuinely down-to-earth, warm and welcoming newly appointed mayor, who was dining at the hotel for breakfast with her sister Brenda Atchison, which turned into an impromptu meet and greet with folks, most of whom she already knew or, through friendly chatter realized that she had a connection to. 
Ya'll know how it is in Texas—"Who your people?" And the rest is history.
FYI, two black men had previously served as mayors of Crockett, though neither was elected; they were both appointed to fill unexpired terms.
Highly revered by the community, and we know this because everyone we came in touch with we enthusiastically shared that we had just met the Mayor of Crockett. That a being said, high praises flowed in for Dr. Fisher who was sworn in earlier this year on May 13, 2019. The longtime educator celebrated her history making victory before a standing-room-only crowd during a regularly scheduled meeting of the Crockett City Council.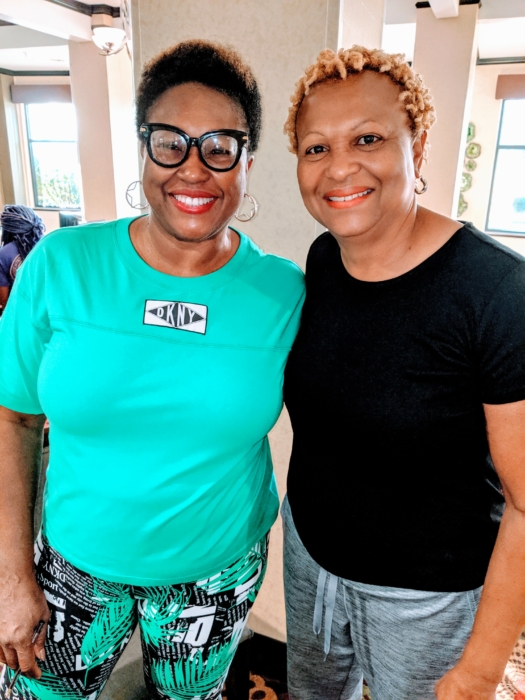 Interestingly, if you do a quick Google search, you'll find that African-American women mayors who have won a seat in large metropolitan cities pop-up, but it's hard to find those who have had the same success in smaller cities, like Crockett. If you know of any more, please let us know.
The city of Crockett located in the piney woods of East Texas, currently has a population of 22, 820, with approximately 45% being Black. Black history has deep roots in Houston County, the first county in Texas, deeply rooted in the darkest history of racism, as with the deep south. Crockett is also home to the now defunct Mary Allen College, the first black women's college in the state of Texas.
What's significant about Fisher's win is the city of Crocketts long history of racial inequalities. Many black folks fled Crockett during Jim Crow Laws escaping to larger cities such as Dallas and Houston.
As reported in the Messenger Fisher is quoted as saying, "I would like to say thank you. Thank you so much. I am so proud to be a part of the city. I was the one who said when I leave, I probably wouldn't come back, but I did and I stayed forever. It was a great choice," she said.?
The city being led by a black mayor is an achievement pushed forward by defining moments during the civil rights movement. Fisher is the first African American to be elected by registered voters in a citywide election to serve as mayor of Crockett. She is the second woman elected to the position.