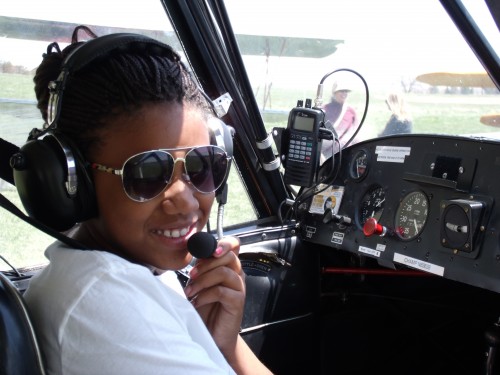 (Denver, Colorado) It's not every day that we hear or read about young girls wanting to become pilots.  Let alone African American girls.
Meet 12-year old Dayla Blackburn.  She's young, gifted, African-
American, and is confident about her future of becoming a helicopter pilot. Blackburn, is a member of the Take Flight Leadership Aviation/Fly Girls Bessie Coleman Chapter in Denver, Colorado.
TFLA/Fly Girls is an organization created in honor of Bessie Coleman, a pioneer in the field of aviation, who went on to become the first African-American female pilot.
Jaqueline Withers, an artist who's not a pilot states on the groups YouTube video that, she started the program wanting to have an impact on the historical moment in higher education and, to help students explore their goals, visions and dreams, founded the organization in 2003.
Withers interest in starting the program came about while painting murals of the legendary Tuskegee Airmen, the first African-American military aviators in the United States armed forces.
Fascinated by the Tuskegee Airmen, and the historical impact the group made on the world, Withers, decided to create the Fly Girls, a leadership development program that gives girls of color an opportunity to learn about aviation, work on planes and get some time in flight simulators and in the air.
Currently, there are over 25 students in the group starting from ages 9-17.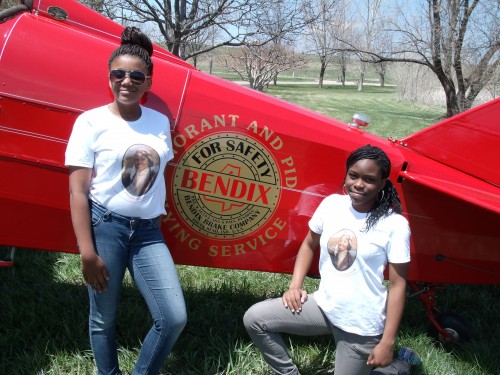 Under Withers leadership, students have started to reap the benefits of belonging to the elite Fly Girl's organization.
In 2012, Blackburn won the Southwest Scholarship Essay Contest, which allowed her an opportunity to travel to Dallas, Texas to learn more about the flight simulator and flying.  While there, she met with other pilots including, members of the Tuskegee Airmen.
On March 21, 2013 the Fly Girl's had the opportunity to speak at Argosy University in Denver, honoring Women's History month.
And even more recent, Withers received a letter announcing that there was one opening for a scholarship to attend the Air Academy Young Eagles Camp in Oshkosh, Wisconsin, a program that offers youth, age 8-17, an opportunity to go flying in a general aviation airplane.
Withers immediately thought of Blackburn.  She sent her an email, which stated, "This is your chance to shine. Complete this application and send it out right away!"
Two weeks later Blackburn's parents received a call back for an interview. During the interview process Dayla recalls being asked one question: "Why do you like aviation?" Her response was, "I love aviation because it's my passion and, it's my calling from God."
Apparently, that was the right answer.
After finding out that she had won, Dayla returned home and called her fearless leader, and said, "Ms. Jacqueline, I got it!" Withers says, her response to her young student was, "I had no doubt."
Withers admits to hanging up the phone after hearing the news and crying tears of joy, something she says Dayla never knew.
Story contributed by Jaqueline Withers, Founder of Fly Girls Bessie Coleman Chapter in Denver, Colorado.