By: G. Napier Barnes, III.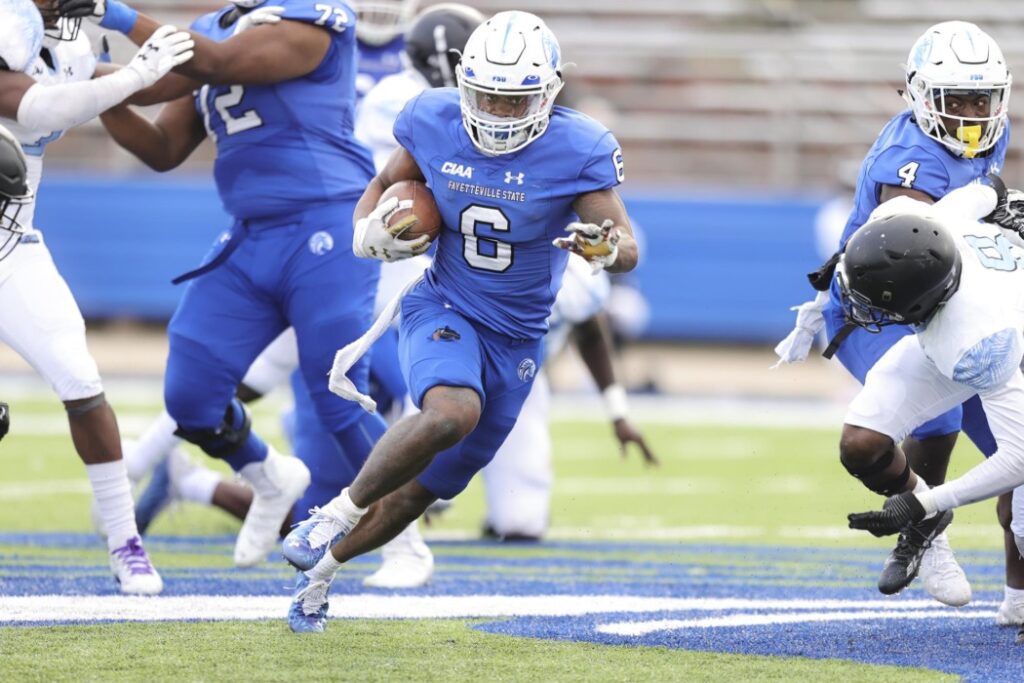 Football is the King of intercollegiate sports especially on HBCU campuses. Most football programs are revenue generating. Some programs can even "carry" a schools' entire athletic department. But because of Title IX, which came into effect in the early 1970's, women's sports are just as important on college and university campuses as the men of the gridiron. Title IX basically says that the number of male sports teams must be equal to the number of female sports teams at an institution of higher learning. With that being said, if a school offers six male dominate sports, let's say football, basketball, baseball, soccer, golf, and tennis, there must be six female sports, like maybe Volleyball, women's basketball, softball, soccer, golf, and tennis.
Football is the only sport that I can think of that doesn't have an equivalent to an intercollegiate female sport. Thus, football is king. To assure that male and female athletes have an equal opportunity to compete in intercollegiate athletics the HBCU athletic conferences have different ways to achieve the correct standard(s). Some conferences offer Bowling as a sport to balance the number of male and female teams. Others use cross country, and-or indoor/outdoor track & field to balance the number of male and female teams. The Delaware State University has a female Lacrosse team that competes in a PWI conference because the MEAC doesn't offer it as a sport. Howard University competes in women's Soccer with teams in the SWAC because the MEAC doesn't offer that sport for the ladies. Title IX is the law of the land and it's good because it gives hundreds of thousands of female athletes the opportunity to receive a college education. If you know of a young lady who has skills in one of the forementioned sports for women maybe, you should research an HBCU to see if they offer that activity as a scholarship sport.
For the most part, "money games" are done for the 2022 football season. The majority of games last week had conference implications. The biggest may have been my Fayetteville State University Broncos against the Virginia Union University Panthers. VUU (4-0) came from behind to defeat FSU 31-28. Both teams are on track to re-meet at the CIAA football championship game in November.
North Carolina A&T State University (the nation's largest HBCU and newest member of a PWI conference) defeated the defending Black College Football National Champions South Carolina State University 41-27. It was A&T's first victory of the season. The game was close until the 4th quarter. It was in that final stanza that SCSU's quarterback was sacked twice for losses while also tossing two interceptions. This was a non-conference loss for South Carolina State. If the Bulldogs win out, they could get the opportunity to defend their title against the SWAC champion at the Celebration Bowl slated for Atlanta in December.
Alcorn State University, behind a career day by running back Jarveon Howard defeated University of Arkansas-Pine Bluff 38-21. Howard rushed for 299 yards and 4 TDs. Alcorn had been the toast of the SWAC before Deion Saunders got to Jackson State two seasons ago. Maybe the Braves can challenge for the title.
Speaking of Coach Saunders, he believes that his son Shedeur (Jackson States' starting QB) should be in the running for the Heisman Trophy which is college football's highest individual honor. The younger Saunders completed 40 of 51 passes for 438 yards and four touchdowns in Jackson State's 49-7 victory over Mississippi Valley State University last week. Coach Prime is right about his son, BUT America will not allow a player from an HBCU to win that prestigious award.
In a bitter-sweet moment, my Fayetteville State University Broncos Golf team won the Farmers Insurance HBCU DII Championship last week in Atlanta. FSU won the three-round event by 13 stokes over second place Kentucky State (SIAC) shooting as a team 42 over par. Miles College (SIAC) was third, followed by Winston-Salem State (CIAA) Virginia State (CIAA) Johnson C. Smith (CIAA) Morehouse (SIAC) and Wilberforce (IDP) in that order. I said bitter-sweet not because we won, but because a large majority of the golfers were NOT African American. People, there are scholarships or aide for golfers, bowlers, soft ballers, baseballers and other sports NOT named football or basketball. Please take advantage of these opportunities. They do.
Next week the effects of Ian on HBCU Sports.
Want your life a little sweeter? Subscribe here with The Chocolate Voice!
---