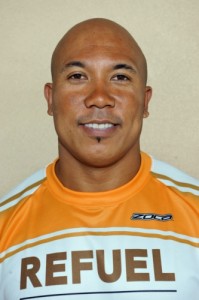 WASHINGTON, Oct. 29, 2012 /PRNewswire/ — Football legend Hines Ward may have hung up his helmet and pads but that doesn't mean he's stopped pushing the boundaries of his athletic ability. Just one year after ending his 14-year pro football career, Ward will up the ante by switching gears from a 40-yard dash to a 140.6 mile swim, bike and run in the most revered, yet challenging one-day endurance event on the planet. Ward has teamed up with REFUEL | 'got chocolate milk?' to take on the 2013 IRONMAN ®World Championship triathlon on the Island of Hawai'i and is searching for two people to experience this life-changing journey with him.
The new program, dubbed "BECOME ONE," REFUEL | 'got chocolate milk?' is issuing a challenge to individuals who believe they can redefine their personal limits to become an IRONMAN triathlete. This one-of-a-kind program will send Ward and the two contest winners on an epic journey and give them starring roles in an online documentary series. Together, they will receive the tools, training and nutritional know-how to conquer the IRONMAN World Championship – the "holy grail" of triathlon – in Kailua-Kona, Hawai'i on October 12, 2013.
Everyday athletes can apply to join this one-in-a-lifetime training journey now through November 30 atwww.gotchocolatemilk.com. Applicants must be at least 21 years old, and they need to create a short video on YouTube™ to explain what motivates them, why they want take this challenge, and how IRONMAN and chocolate milk can help redefine their personal limits. Two winners will be announced inFebruary 2013.