Although the incarceration of celebrities like Chris Brown, Lil Kim, Da Brat, DMX, Lindsay Lohan, and a host of others, have made "serving time" acceptable in today's culture, formerly incarcerated R&B/Hip Hop songstress, Erika Kayne, a Cleveland, Ohio native, is determined to make sure young people know the real deal about the conditions in prison and don't get caught up in the hype.
Kayne, a second-generation offender (her father has been incarcerated since she was an infant) who did a one-year bid for weapons charges, recently released a public service announcement (PSA), "Think Before You Act," expressing the shame and humiliation associated with being locked away.
In a recent conversation with "The Chocolate Voice," Kayne, shared her experience auditioning for American Idol and how she's using her voice in hopes of inspiring young people to make better life decisions.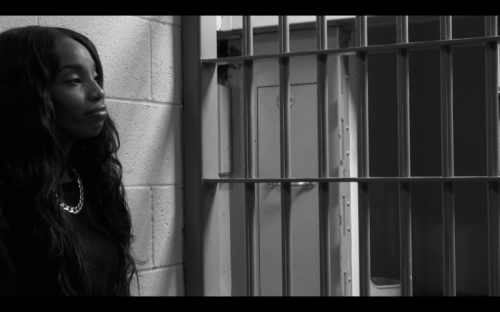 TCV: What was auditioning for American Idol like?
EK: It was the longest process of my life. You don't automatically go to the judges. First you go through producers who work for the show, and then you go through executive producers. Then you finally make it to see Paula, Randy and Simon. I stood in line from one o'clock in the morning until one o'clock in the afternoon to get my number. Then I had to sleep on the Browns Stadium floor because auditions were held in the stadium. I was auditioning there because I am from Cleveland, Ohio. I had to re-sing the same song, and I sang it in front of Nigel, who was one of the executive producers. When I was singing, he stopped me and said, "Pick another song." I sang another song and he stopped me and told me that I wouldn't be going to the next level. I fell to the floor and cried, and Nigel looked at me and told me he was kidding and that I would be going to the next level. The next level was about a month later, a day before my birthday. I got in front of Paula, Randy, Simon and LL Cool J and sang Alicia Keys' Fallen. I didn't get picked. Paula told me I was too young and to come back next year. Simon said I spent 90% of my time stressing and 10% of it singing. LL Cool J and Randy said I should go to Hollywood. Afterwards, LL Cool J's manager came up to me and told me the reason I didn't get picked was because an African American girl went before me and we sounded alike, so she got my ticket.
TCV: How did your experience on American Idol help you grow?
EK: I kept singing, and I got in a group with some kids from school. We called ourselves Erika and the Goodfellaz.
TCV: Even though you're a solo artist now, will you ever bring back your group Erika and the Goodfellaz?
EK: No, because we all went our separate ways. They were all boys, and I was the only female. After getting incarcerated, I lost interest in being in the group. I just think we all grew apart.
TCV: We know you are open to talking about the consequences of poor choices. Let's talk about your incarceration.
EK: I was involved with a guy who was my first love and first true boyfriend. He had a child, and the mother of that child was pregnant when he and I first met. One day, she showed up at my house, and without thinking I went outside and fought her. She knew there was a gun in the house, which belonged to my two best friends and me. She told the police, and when they found it, I had to choose between taking the blame or letting my friends go to jail with me. So, being the best friend I was, I said the gun was mine. I served one year in prison. I go to high schools and elementary schools to tell the kids my life's story so they can avoid making the same mistakes I did.
TCV: We heard about one of your friends releasing some of your music while you were incarcerated. Is that how you were first discovered?
EK: I was known on Myspace, because Myspace was hot back then. However, while I was incarcerated, that friend definitely kept my music alive. He started off as a fan, and he kept everybody up on my music while I was in prison. I originally heard about him through my cousin when she came to visit me. I love him to death.
TCV: Are there any rap artists you would like to work with?
EK: Yes! Jay-Z is at the top of my list. TI and A$AP Rocky would also be amazing. I want to work with everyone!
TCV: Who are your musical influences?
EK: Whitney Houston. I used to listen to her as a kid. I also love Fantasia because she has a story to tell. I love Chaka Khan and Beyoncé as well. I could just go on and on.
TCV: Is anybody else in your family musical?
EK: My grandfather was musically inclined. He could sing and so can my mom, but she's shy. My sixteen-year-old sister also sings.
TCV: Have you had any professional vocal training?
EK: No, I've never had any vocal training.
TCV: What overall message are you trying to convey to your audience through your music?
EK: My overall message is that you can always turn a negative into a positive. You don't have to sit back and let the things from your past eat at your future. I want to show people that I'm a girl who started at the bottom, and now I'm climbing my way to the top.
TCV: What sets you apart from other singers?
EK: My story. Everyone has a different story, and I think by opening up about my story now, it will prevent my past from haunting me in the future. I'm an open book.
TCV: What helps inspire you as an artist?
EK: Everyday life helps inspire me. Getting to hear new music inspires me. Day-to-day life inspires me because I could be in a grocery store and have an experience with an ex, and I can think, "I'm going to write about this." Social Media also inspires me, because that is how I keep in contact with all of my fans. They really keep me inspired with their supportive messages on Instagram telling me about how I helped them in their relationships and how I helped them through their problems.
TCV: Do you have any new music that will be coming out soon?
EK: My new single, Heart For Sale, is available now on iTunes. The new video will be coming out in a week and a half.
YOUTUBE PSA:  http://www.youtube.com/watch?v=C7rCUFVC-sQ&feature=youtu.be
TWITTER: http://twitter.com/ErikaKayne
FACEBOOK: https://www.facebook.com/pages/Only1ErikaKayne/174044458864
INSTAGRAM: http://www.instagram.com/Only1ErikaKayne
SOUNDCLOUD: https://soundcloud.com/only-one-erika-kayne-1