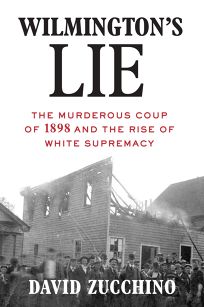 Since we're all isolated and social distancing, now's the perfect time to catch up on some reading. Here's one book that came highly recommended by one of our readers, "Wilmington's Lie: The Murderous Coup of 1898 and The Rise of White Supremacy."
Written by Pulitzer prize-winning journalist David Zucchino, "Murderous Lie" is a searing account of a little known event, surrounding the rise of white supremacy in Wilmington, North Carolina, in 1898.
Thanks to extensive research by the author, by the 1890s, Wilmington, a bustling port city, with a Fusionist government of Republicans was North Carolina's largest city which boasted a thriving black population—with flourishing black-owned businesses, police officers, and a successful African American newspaper, The Record. During that period in history, the town showed promise of black and whites, a mixed race community living harmoniously.
In 1898, white supremacy disrupted that harmony with intimidation and violence killing 60 blacks, driving blacks and their white supporters out of Wilmington and never to return. The disruption was in response to a speech calling for white men to rise to the defense of Southern womanhood against the supposed threat of black predators.
Wilmington's Lie, is yet another intense account of Black history, leading up to a shameful American history that very few of us have ever heard of.
Let us know what ya'll are reading?