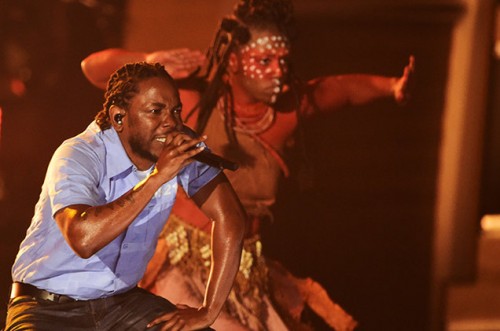 (Los Angeles, CA) On fire! That's the best way to describe Kendrick Lamar's performance at the 2016 GRAMMY Awards on Monday night February 15. Introduced by hip hop icon Ice Cube, and his son Osha Jackson Jr. (Straight Outta Compton), the talented rapper wowed the crowd of his peers with a politically charged renditions of "The Blacker The Berry" and "Alright," the Compton rapper — who took home five trophies including best rap album for his album To Pimp A Butterfly. Lamar, making a powerful statement limped on stage alongside dancers, all in chains and wearing prison clothes before breaking out in an explosive performance at Los Angeles' Staples Center.
The night was filled with Hip-hop as the cast of the popular Broadway musical Hamilton performed live Hamilton's opening number from the stage of the Richard Rodgers theater in Manhattan. Kendrick Lamar and Hamilton performances were electric, and the fire of the show.
Other winners include: Mark Ronson's high-spirited "Uptown Funk," featuring Bruno Mars, won Record of the Year. The songwriting award, Song of the Year, went to Ed Sheeran and Amy Wadge's "Thinking Out Loud," while Taylor Swift won Album of the Year for 1989.  And, Pentatonix — the vocal group who surpassed 1 billion YouTube views in 2015 — took home the award for Best Arrangement, Instrumental or A Capella for their version of "Dance of the Sugar Plum Fairy," from Tchaikovsky's ballet The Nutcracker. The group also teamed up with legend Stevie Wonder during the telecast for a a tribute to the late Maurice White of Earth, Wind and Fire, who died earlier this month.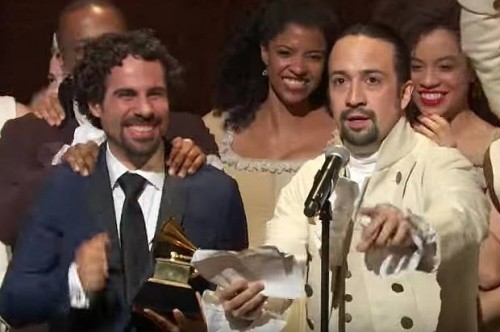 For complete list of winners visit Grammys.com.