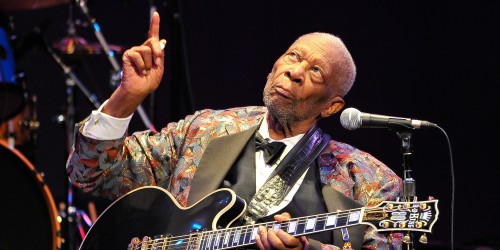 Last night the world learned that we lost another great musician, Riley B. King the iconic guitarist-singer-composer, known throughout the world as the legendary B.B. King.  
The masterful blues musician was 89 years old.
His attorney, Brent Bryson, told The Associated Press that King died peacefully in his sleep at 9:40 p.m. PDT.
Born on Sept. 16, 1925, on a tenant farm near Itta Bena, Mississippi, King was raised into a family of poor sharecroppers on a plantation near Itta Bena, Mississippi.  Raised primarily by his mother and grandmother, after his parents separated, when his mother died, he worked as a sharecropper for five years in the small town of Kilmichael, until reuniting with his father who then, took him back to Indianola.
The iconic musician, along with his faithful companion guitar Lucille, spent close to 70 years of performing for music fans and spreading the style of music known as "The Blues"
As we over at The Chocolate Voice sort through internet news sites and social media reports, we felt moved to share 5 memorable and interesting facts, and quotes by the legendary B.B. King:
1) At age 12, he purchased his first guitar for $15 and worked on his playing skills with the help of mail-order instruction books.
2) King was a disc jockey in Memphis, labeled "the Beale Street Blues Boy."  That name was later shortened to BB and he made his first record in 1949.
3): He was playing a dance hall in Twist, Ark., in the early 1950s when two men got into a fight and knocked over a kerosene stove. Mr. King fled the blaze — and then remembered his $30 guitar. He ran into the burning building to rescue it. He learned thereafter that the fight had been about a woman named Lucille. For the rest of his life, Mr. King addressed his guitars — big Gibsons, curved like a woman's hips — as Lucille.
4) By his 80th birthday he was a millionaire many times over. He owned a mansion in Las Vegas, a closet full of embroidered tuxedoes and smoking jackets, a chain of nightclubs bearing his name (including a popular room on West 42nd Street in Manhattan) and the personal and professional satisfaction of having endured.
5) King didn't like to sing and play at the same time, so he developed a call-and-response between him and Lucille.
Below are just a few of the King of Blue's most memorable quotes.
Emotional connection…
"I wanted to connect my guitar to human emotions."
Music as a source of healing…
"Blues is a tonic for whatever ails you.  I could play the blues and then not be blue anymore." 
World Views…
 "People all over the world have problems." And as long as people have problems, the blues can never die."
On his decision to become a Blues singer…
"Growing up on the plantation there in Mississippi, I would work Monday through Saturday noon. I'd go to town on Saturday afternoons, sit on the street corner, and I'd sing and play. I'd have me a hat or box or something in front of me. People that would request a gospel song would always be very polite to me, and they'd say: 'Son, you're mighty good. Keep it up. You're going to be great one day.' But they never put anything in the hat."

"But people that would ask me to sing a blues song would always tip me and maybe give me a beer. They always would do something of that kind. Sometimes I'd make 50 or 60 dollars one Saturday afternoon. Now you know why I'm a blues singer."
Despite being self-taught, King was a firm advocate of musical education…
"Get yourself a teacher, take music lessons, and learn everything you can about your instrument," he says. "Learn to read music. Later on you'll be qualified to play whatever you want."
Rest in Perfect Peace, B.B. King.  Your soul lives on.