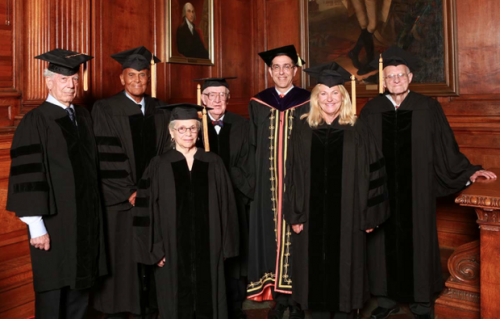 Harry Belafonte, the 88-year-old singer, actor, social activist and humanitarian, credited as "The King of Calypso," was among six officials honored at Princeton University's commencement ceremony earlier this morning. In addition to his outspoken activism, he is perhaps most widely known for his popular hit "Day-O," informally referred to as the "Banana Boat" tune. Belafonte and the other six individuals were awarded honorary degrees based on their contributions to civil rights, engineering, the law, literature and service to the nation during the school's 268th Commencement ceremony.
Read Bio followed by the honorary degree citatations below:
Harry Belafonte, Doctor of Laws
Harry Belafonte's life has spanned many roles, including actor, singer-songwriter, social activist and producer. With a recording career that began in his early 20s, Belafonte became famous for his blend of pop, jazz, and Caribbean musical styles, and was dubbed "The King of Calypso." He won three Grammy Awards, including a Lifetime Achievement Award, and a Tony Award. His star power propelled him into film acting in the 1950s, with titles including "Carmen Jones, Island in the Sun," and "Odds Against Tomorrow." His later work focused on documentaries. In 1960, he won an Emmy Award for his TV special, "Tonight With Harry Belafonte." He was awarded the National Medal of Arts in 1994. Belafonte has received numerous honors for his humanitarian work. As a civil rights activist, he was a confidant of Martin Luther King Jr. In the 1980s, he helped start the USA for Africa project to fight hunger. He played a key role in recording the 1985 multi-artist song, "We Are the World," to raise funds for Africa. Recently, Belafonte founded Sankofa, a nonprofit organization that brings together artists and grassroots organizations to confront social issues.
Raised in poverty in Harlem and Jamaica, he became one of the foremost entertainers of his generation, generously sharing his fame to further the careers of others. Following in the footsteps of Paul Robeson, he used music to bridge national and ethnic differences. In working tirelessly for civil rights across the South, opposing apartheid in South Africa, and mobilizing famine relief for Ethiopia, he has reminded us that we are the world. His integrity and courage inspire admiration and imitation, and his example strengthens our hope that the daybreak of justice, peace, and equality may still come, if we, like him, let our light shine: Day-O!
Way to go Dr. Belafonte!