(SILVER SPRING, MD — August 16, 2013) – To commemorate the 50th Anniversary of the March on Washington, TV One will air Sing Your Song, the critically-acclaimed documentary profiling revered African American singer, actor and activist Harry Belafonte, on Sunday, August 25 at 11 am ET. This marks the basic cable network premiere of the 2011 documentary, which charts Belafonte's life as a rising black Hollywood star amid the social and political racism plaguing 1960s America, and his emergence as a figurehead of the civil rights movement.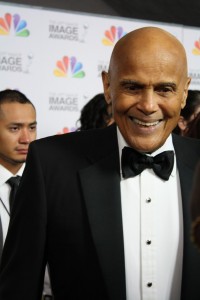 "As one of the most celebrated entertainers of the era, Harry Belafonte's unrelenting support of the 1960s civil rights movement helped to spotlight and give voice to the hardships and prejudices faced by millions of Americans," said Maureen Guthman, SVP of Program Strategy and Acquisitions for TV One. "We are delighted to bring his story to the wider basic cable audience—both those who were raised on his songs and films, and younger viewers who can absorb the documentary and appreciate Belafonte's legacy in conjunction with the March on Washington anniversary."
Despite his fame and success as Hollywood's "King of Calypso," Belafonte was confronted with the same Jim Crow laws and prejudices that every other black man, woman and child in 1960s America faced. The film documents his resistance to those obstacles, and his transformation into a champion for human rights worldwide–making him one of the truly heroic cultural and political figures of the last 60 years. In addition to Belafonte, Sing Your Song features interviews with Belafonte's family and notable names such as Tony Bennett, Diahann Carroll, Ruby Dee, Whoopi Goldberg, Quincy Jones, Coretta Scott King, Rep. John Lewis, Miriam Makeba, Nelson Mandela and Sidney Poitier, among many others. Produced by Belafonte Enterprises and S2BN Entertainment Production in association with Julius R. Nasso Productions, Sing Your Song has been presented at numerous film festivals worldwide and has received award honors including Most Popular Film at the 2011 Vancouver International Film Festival, a 2012 NAMIC Vision Award (Documentary) and a 2012 NAACP Image Award (Outstanding Documentary). The film aired on premium cable network HBO in October 2011.