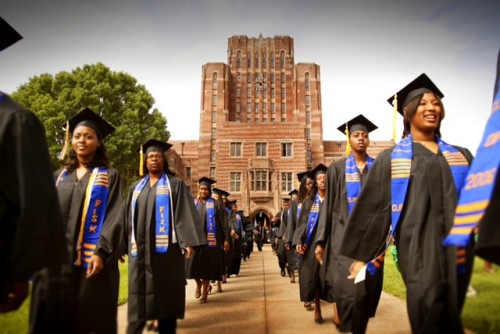 A recent Gallup poll suggest that Historically Black Colleges and Universities (HBCU) alums reported a higher sense of financial, social, and community giving after graduation.
San Diego native Chaunteal Webb-Candler knows that feeling all too well.  The Clark-Atlanta graduate proudly admits the value in attending an HBCU, has provided her with invaluable leadership skills, values and a support system that forged a commitment to giving back.
The twenty nine year-old recalls in middle-school working on a college research project with a friend is when she made a decision that attending a HBCU is where she needed to be.
She also shared that several members of her family also attended HBCU's.
"I have an aunt that graduated from Grambling State University, a cousin from Bethune-Cookman College (now university) and several members that graduated from Jackson State University," she says.
After graduation, Webb-Candler returned to her hometown where she currently works as a paralegal, and since August of 2015  she has taken on a leadership role in putting together the 2nd annual Black College Expo in San Diego, taking place on Saturday. Webb-Candler and her committee has twenty confirmed HBCU's that will be on hand to promote, and share information with students about their respective colleges.
She's excited about sharing the news with students, thanks to the efforts of local non-profit organization The Blue Heart's Foundation, that on December 8, 2015 the San Diego School Board voted unanimously to make it FREE to complete the The Common Black College Application  for students within San Diego Unified School. 
 The cost to complete the application is a one time fee of $35.00 allowing students to apply to any number of the 46 HBCUs at the same time.
Now in its second year, the event was founded by, another HBCU Alum (Johnson C. Smith and North Carolina A and T), Shana Collins who,  Webb-Candler met in 2014 and decided to return to her home in South Carolina.
The FREE event will take place on January 16th, 2016 from 10:00 am to 2:00 pm at the Lincoln High School Gymnasium, located at 4777 Imperial Ave.
Notably, the Principal of Lincoln, John Ross is an Alumni of the prestigious Morehouse College in Atlanta.
During the event students will have an opportunity to engage with Alumni, participate in panel discussions, workshops, win prizes and give-aways.
"We want to make sure that our students know the history of HBCU's, and the many alumni who have contributed to this world." says Webb-Candler.
 She also shared with TCV that on Sunday, May 22, 2016 HBCU Alumni of San Diego will present its 1st Baccalaureate ceremony for all graduating African American students in San Diego. 
Currently, there are over 100 students registered for Saturday's HBCU College EXPO.  Click here to register on eventbrite.
For more info please contact: Malykke Bacon [email protected] Chaunteal Webb-Candler [email protected] or Ebony Rice [email protected]