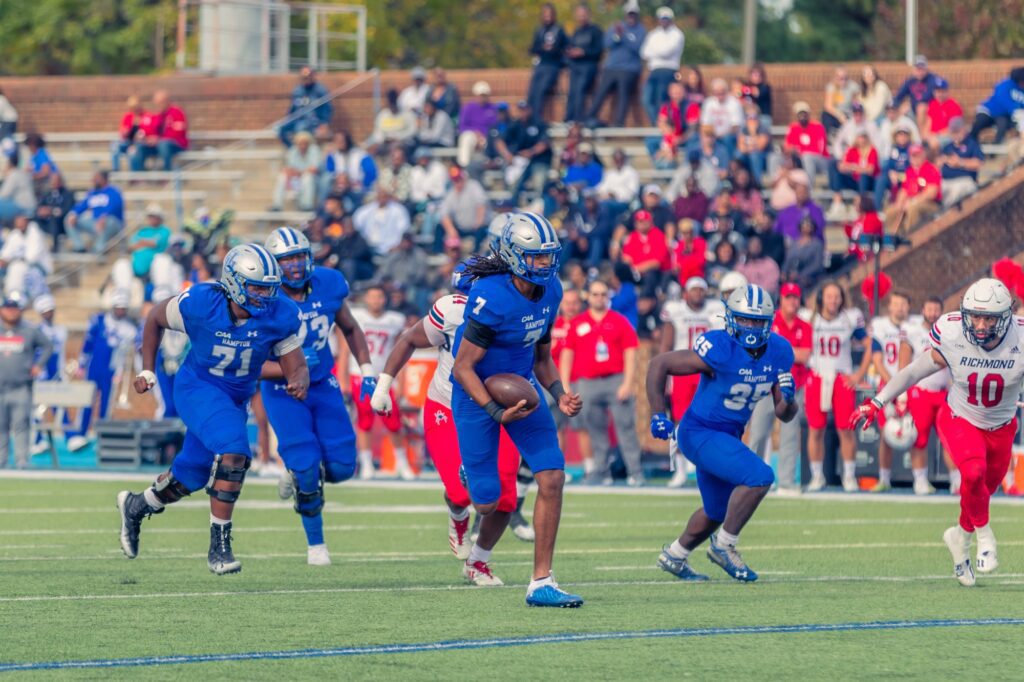 ---
By G. Napier Barnes III
The end of September also brings the end of the dreaded "money games" for many of our HBCUs. Some of my readers often ask why would a school accept a money game? The answer is simple. It's all about the Benjamins. But more importantly I am asked why aren't these games competitive? To this I answer, It's all about the numbers and the Benjamins.
When the defending Black College National Football champions, North Carolina Central University traveled to Los Angeles to face the UCLA Bruins at the Rose Bowl last week, the numbers done in the Eagles in even before they took the field. NCCU is a member of the NCAA Football Championship Subdivision (FCS) formerly Division 1AA. Members of the FCS can only offer 65 scholarships for football, some are partial. UCLA is a member of the Football Bowl Series Subdivision (FBS) formerly Division 1. FBS members can offer 85 full ride scholarships for football players. Full ride means NO partial scholarships.
UCLA has an enrollment of 44,947 students. NCCU has an enrollment of 8,096. The NCAA allows its members to use a percentage of its student fees to support intercollegiate athletics. With more funds you can afford better facilities, recruit better staff, coaches, and athletes. I often use as an example the specialization(s) of the coaching staff. Must HBCUs have a special teams coach. That coach is responsible for the kickoff team, the punting teams, the kickoff return/hands team, the punt return team, and the point after touchdown team. A school like UCLA may have a coach for each one of these functions. For the PAT/Field Goal team there could be a coach for the long snapper, a coach for the holder, and another coach for the kicker. FBS schools have bigger, better, and more resources to compete.
In money games SWAC Champion Jackson State University (minus Deion) loss to Texas State University 77 to 34. Bethune-Cookman University (SWAC) was caned by the University of Miami 48-7. Southern Methodist University applied the death penalty to Prairie View A&M (SWAC) 69-0 in Dallas. The UCLA Bruins ruined the North Carolina Central University Eagles flight to California 59-7. So much for the money games.
Jackson State did bounce back the next week to slip by Bethune-Cookman 22-16 in conference play. Prairie View A&M held on to defeat Alcorn State University 23-20 also in league play 23-20. NCCU took out their frustrations by stomping Mississippi Valley State University 45-3. Maybe getting crushed in a money game has its advantages.
Five teams in the Central Intercollegiate Athletic Association (CIAA) are presently undefeated in league play. Virginia State University, Bowie State University, Johnson C Smith University, Winston-Salem State University and my Fayetteville State University are all sporting 2-0 records. VSU, BSU, and defending champions FSU were expected to be in the mix. My Broncos defeated nationally ranked Virginia Union University 10-7 during a tropical storm that postponed several other games in the area. Johnson C Smith and WSSU have already matched last years win total. I expect both have already shot their wad for 2023.
The Southern Intercollegiate Athletic Conference (SIAC) is considered by some as the Division II HBCU Football conference. That maybe be a southern thing. Tuskegee University (4-0) Benedict College (4-0) and Allen University (3-0) went undefeated the first month of the season. Ft Valley State University (3-1) and Miles College (3-1) are in the mix. Back to maybe it's a southern thing these schools are in either Alabama, Georgia, or South Carolina.
The Mid-Eastern Athletic Conference (MEAC) is down to only six members. NCCU, Norfolk State University, Howard University, Morgan State University, South Carolina State University, and Delaware State University. As a group they participated in several money games without any success. Conference play will begin next month.
North Carolina A&T State University left the MEAC for whiter pastures. The largest HBCU, and once the two-time Black College National Champions have fallen on hard times. The Aggies are now 0-3 losing to powerhouse programs like Elon University 27-3, and University of Alabama-Birmingham 35-6. NCCU destroyed them 30-16 in the Aggie-Eagle Classic earlier this month. Fans are questioning why they jumped to a PWI conference and if it was worth it?
Hampton University also left the MEAC for whiter pastures. The Pirates have played three other HBCUs to open the 2023 football season. They defeated Grambling State University (SWAC) 35-31, Howard University 35-34, while losing to Norfolk State University 31-23. We wish them well on the light side of the force.
Next up October is the beginning of the HBCU homecoming season.
---
Story by: George Napier Barnes, III. George is a proud alumni of historically black college or university (HBCU) Fayetteville State University, Kappa Alpha Psi, and currently lives in Phoenix, Arizona.