With the holidays just around the corner, getting a massage is one way to avoid stressful situations during this joyous, but hectic time of the year.
By the way, did you know that October 25-31 is "National Massage Therapy Awareness Week?"  An entire week is designated to raise public awareness of the benefits of therapeutic massage and to encourage Americans to seek massage therapy for stress relief, pain management and general health, is just what the body needs to ward off un-wanted stress.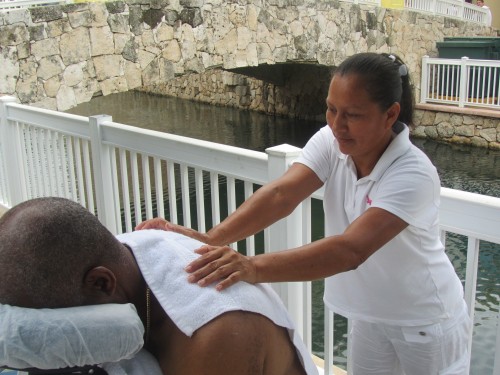 HERE'S WHY YOU NEED A MASSAGE:
Neck and shoulder tension
Low back pain
Spasms and cramping
Anxiety and fatigue
Poor circulation
Pain from arthritis
Fibromyalgia or MS (chronic nerve pain)
A MASSAGE WILL DO THE FOLLOWING:
Increase blood circulation which flushes the body's toxins.
Reduce cortisol levels, a hormone that is produced in response to stress.
Release endorphins – the body's natural painkiller.
Reduce recovery time, help prepare for strenuous workouts and eliminates subsequent pain of the athlete at any level.
Relieve pain for migraine sufferers and decrease the need for medication.
FOUR WAYS TO RECEIVE A MASSAGE:
1. Make One or Two Hour Massage Appt
2. Offer Chair Massage at your Office/Event
3. Schedule a private Spa Party with a group
4. Receive Mobile Massage in your home
(Note Special Pricing not valid for mobile)
Nip that stress in the bud before the holiday's get here. Contact Thelma's One Stop Therapeutic Massage and Spa services at 619-807-0902, and take advantage of Fall specials.
Massage Fall Specials!
One Hour Massage $49
Two Hour Massage $99
 Advertisement