The slightly warmer weather at this Presidential Inauguration seemed to reflect the welcoming sentiment of the enormous crowd gathered on the Mall to see their President begin his second term in office.  There is no doubt that President Obama and his beautiful family were the highlight of the proceeding, but another key feature of the once-every-four-years event was the show of bipartisan presence on the balcony of the Capitol Building. The President also took the opportunity to point out the fact that the only way to American prosperity is through bipartisan support.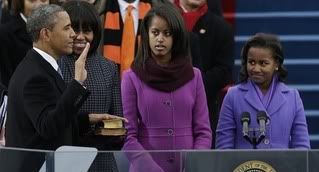 "My fellow Americans, we are made for this moment, and we will seize it – so long as we seize it together."(www.thedailyreporter.com).
"We, the people, still believe that our obligations as Americans are not just to ourselves, but to all posterity."(www.thedailyreporter.com).
"We cannot mistake absolutism for principle, or substitute spectacle for politics, or treat name-calling as reasoned debate."(www.thedailyreporter.com).
Within minutes of the President delivering his inaugural address, conservative and liberal Americans alike were already wondering whether or not true reform and teamwork would materialize out of the cooperation of those leaders present on the Capitol balcony.  Although the President did insist on working across the aisle during his second term in office, he also chose to reiterate his dedication to the pursuit of the causes most dear to his agenda.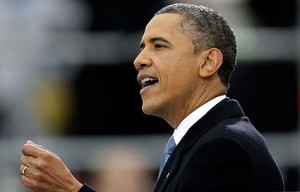 "America's prosperity rests on the broad shoulders of America's middle class."(www.policymic.com).
"We do not believe … freedom is reserved for the lucky, or happiness for the few."(www.policymic.com).
"We are the ones that will turn sworn enemies into the surest of friends."(www.policymic.com).
"We, the people, still believe that enduring security and lasting peace do not require perpetual war."(www.policymic.com).
"Our journey is not complete until our wives, our mothers and daughters can earn a living equal to their efforts."(www.policymic.com).
"If we are truly created equal, then surely the love we commit to one another must be equal as well."(www.policymic.com).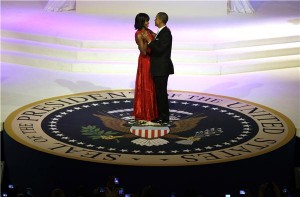 The sentiment of inauguration day is one of American unity and hope.  However, it is also one of expectation for a better tomorrow.  Conservative or liberal, all Americans long for a sense of stability that can only come from identifying with a common ideal.  Current political climates have brought increasing tension to Washington that has precipitated to the rest of the nation.  Although each and every American holds their own values very dear, days like the inauguration show us that a unified vision of a better America has held our nation together unlike any other in the world.  However different our political views may be, our Democratic-Republican and Federalist Founding Fathers are proof that a unified ideal that transcends trivial politics can last years, decades, and even centuries.