MUSICAL PHENOMENON BLACK VIOLIN SET TO PERFORM IN SOUTHEASTERN SAN DIEGO
The duo shatters stereotypes at their only performance in San Diego this year!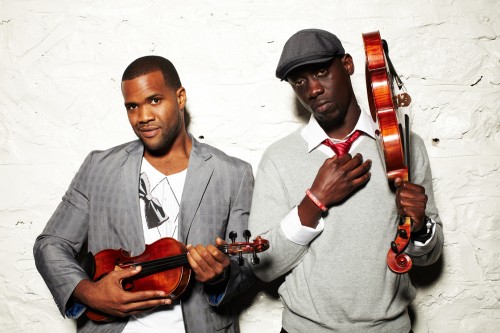 SAN DIEGO, February 2, 2016 — Hip-hop beats meet classical notes to create the musical phenomenon that is Black Violin. The duo of classically trained string instrumentalists, Kev Marcus and Wil B, will share their signature sound and create a dynamic concert experience in Southeastern San Diego's Diamond Neighborhoods on Saturday, February 20, at 7:30 pm at the Joe & Vi Jacobs Center's Celebration Hall (404 Euclid Ave., San Diego, CA 92114). Tickets are available at www.jacobspresents.com. Proceeds go toward supporting performing arts and cultural events in Southeastern San Diego's Diamond Neighborhoods.
Black Violin rose to fame covering hip-hop songs on violin and viola. After winning Showtime at the Apollo in 2005, the duo's unique sound became sought after by hit recording artists, including Alicia Keys, Wu-Tang Clan, Kanye West, and Tom Petty, and eventually by President Barack Obama when he invited the duo to perform at his second inauguration.
Dedicated to reinventing convention, the groundbreaking duo will perform hits from their new album Stereotypes as well as covers of classic pop and hip-hop songs. With Stereotypes, Black Violin set out to achieve something greater than selling records or gaining notoriety as a curiosity. "We want to really be something that young musicians aspire to," says Kev. "For us, the violin is the vehicle for a bigger message, which is not to be afraid to be different."
The duo's performance in Southeastern San Diego, a community with its own history of stereotypes, provides residents with a powerful example of what can be accomplished when they choose to not be defined by others' misperceptions. Leading up to the concert, the Jacobs Center for Neighborhood Innovation is conducting a social media campaign encouraging people to share stereotypes they have encountered using #ImNotAStereotype.
Performance date and time:
Saturday, February 20
7:30 pm
Joe & Vi Jacobs Center
404 Euclid Ave.
San Diego, CA 92114
Tickets:
Preferred Seating – $40.00
General Admission – $25.00
Purchase tickets at: www.jacobspresents.com