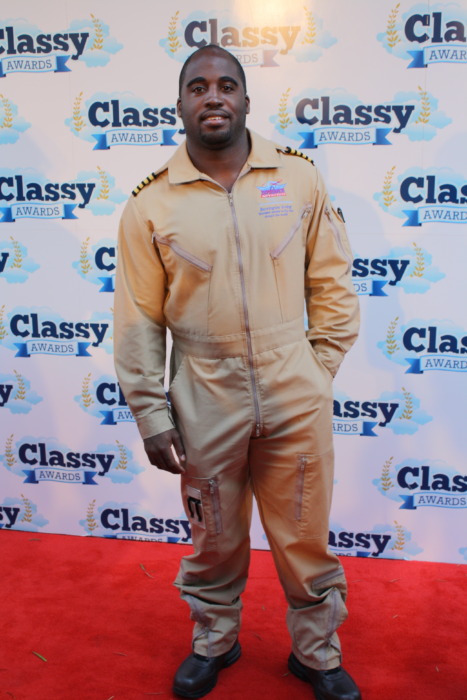 Back in 2011, "The Chocolate Voice" had the honor to interview history maker Captain Barrington Irving, the youngest pilot ever to fly solo around globe, at age twenty-three.
When we met Irving, he was 27. Since our encounter in San Diego, the record-breaking pilot has created "The Flying Classroom" which not only exposes students to aviation, but leads them on virtual global expeditions through dozens of STEM projects. Trayvon Martin, the seventeen year-old Florida teen murdered while wearing hoodie sparking an out pouring of protests worldwide, forcing a hashtag to be created #BlackLivesMatter. Young Martin who aspired to be a pilot was a student of Captain Barrington.
We thought we'd take the time to repost our inspiring post with Captain Barrington Irving, the world's youngest pilot to fly solo around the world. Read on…
Captain Barrington Irving, a now twenty-seven year old pilot, became the youngest African American and the youngest pilot ever to fly solo around the world at age twenty-three. Originally born in Jamaica, Irving and his family moved to Miami when he was six. This Guinness Book of World Records holder came from very humble origins, and he had to work hard to accomplish his dream of flying. A chance encounter with a pilot in a Miami bookstore when Irving was a child inspired him to pursue a career as an aviator.
When asked about what it feels like to be the youngest pilot to fly solo around the world, Irving is quick to give credit to those who helped him achieve his goal, such as his mentor. Irving acknowledges his hard work and inner-city Miami roots when he says,
"I just said to myself, I'm going to prove a lot of people wrong, and show them that a kid out of the hood in Miami can do amazing things."
Even though Irving had to endure many difficulties while growing up in inner-city Miami, he is still a very warm person who's humble personality is evidence of a good upbringing. Through pure dedication and determination, Irving was able to achieve his goal, and experience his ultimate dream of flying around the world. He was able to see many interesting places and meet all different types of people on his journey. Irving was able to learn about many cultures, and he particularly enjoyed India, Egypt, and Japan. He was able to see the Egyptian pyramids and the Nile River, and while in Japan he saw a Luis Vuitton store the size of a Super Walmart!
Barrington Irving has not only accomplished great things for himself, he is also helping children pursue their own careers in aviation. His foundation, Experience Aviation, Inc., trains children in math, science, and other skills they will need to succeed in an aviation career. Irving's latest venture with his foundation is working with the third-largest aircraft manufacturer in the world to transform a private jet into a classroom. His goal is to reach one million students with interests in aviation, and train them from 40,000 feet in the air in the world's first and only flying classroom.
In recognition of his record-breaking aviation career, Irving received a letter signed by the then soon-to-be President Obama congratulating him on his success and praising his humble approach to life. Irving recently gave a speech at the Classy Awards, an event highlighting charitable organizations. He spoke about his organization and its goals, and he sent the message of, "Most limitations are self-imposed," and "The sky is not the limit." Captain Barrington Irving is truly an amazing piece of American history, and he is an excellent example of what hard work and dedication can do.