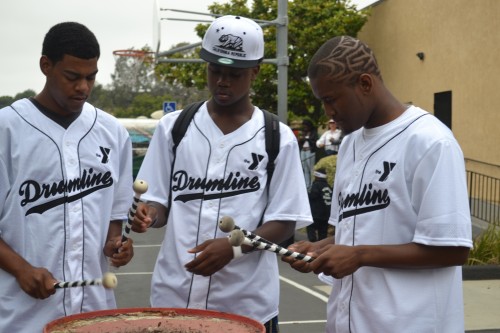 On Saturday, June 8, 2013 the Jackie Robinson Family YMCA Drumline taped their first music video titled "Inspire Through My Eyes." The song was written to send out the message to the world that it takes a community to save our youth.
The song was performed and written by various members of the drumline with assistance from their Drumline Director, 31 year-old Tyra Hawthorne, a recent San Diego resident and a force to be reckoned with.
Tyra or Ms.Tee, as members of the "Thunder Squad," drumline refer to her as, moved to San Diego during the summer of 2010. As soon as she arrived, Hawthorne reached out to see where she could be of service in a community that she knew little about.
Fast forward:  Earlier this year, Tyra Hawthorne, Founder/Drumline Director of the Jackie Robinson YMCA "Thunder Squad" celebrated their one year anniversary in star studded fashion featuring a performance by Grammy-nominated, "White Chocolate" R & B singer Jon B.
During a quick break from assisting with directing the group's first video shoot, Ms. Tee, took a few minutes to answer a few questions with "The Chocolate Voice."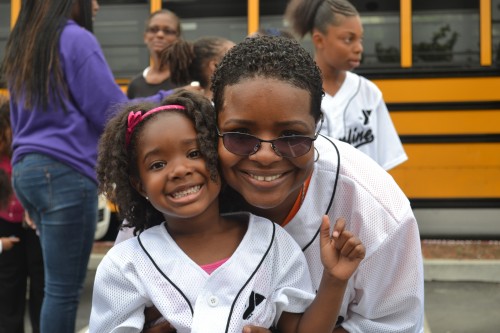 TCV: What inspired you to start "Thunder Squad" Drumline in San Diego?
Ms. Tee:  I'm from Detroit, Michigan and I guess you can say that music is what saved me. It gave me that extra push to help me get good grades— not become involved with the wrong crowd or skip school. My band director Ms. Allen was very strict. And lot of what I do with my students, I get it from her.  She was the type of instructor who kept on us about our grades—making sure we (students) knew that being in marching band, was a privilege not a requirement.
Also, I've always been the type of person who wanted to be a big inspiration to the world.  I knew that I had to be involved in something that would make a difference and, for me it was music. I wanted to bring my passion here to San Diego, and use it as an extra force to help parents, teachers and the community.  And so far, it's working.  Kids who participate in "Thunder Squad" understand my expectations—I expect greatness.  I expect them to listen to and respect their parents and teachers and, I expect good grades.  Currently the student GPA's in the program range from 3.0 to 4.5.  By keeping their grades up, it gives them that extra reinforcement and incentive to remain in the program.
TCV:  What instrument do you play?
Ms. Tee:  Actually, I am a drummer. I went to Grambling State in Louisiana on a scholarship where I was in drumline. It was in college where, I developed my passion for music and now, it's spilling over to what I'm doing today.
TCV:  What has your experience at Grambling State taught you?
Ms. Tee:  Realistically, all of my experiences have taught me what it takes to be dedicated to something. What I mean by that is: I observed how willing my instructors were to get out in the community and hustle for the kids.  Thanks to their hard work, the drumline at Grambling became known for more than just a drumline.  We had an opportunity to perform in the film "Drumline," starring Nick Cannon and, we performed for first time in "Battle of the Bands.  And, we opened up for Grammy Award-winning artist Anita Baker, at the Fox Theatre.
TCV:  I want to commend you on building a successful drumline ("Thunder Squad") in a city that's unfamiliar to you, with that being said, how did the partnership with the Jackie Robinson YMCA come about?
Ms. Tee:  I actually went to my mentor Peggy Cooper and explained to her that I wanted to do something in the community. She suggested that a good contact for me would be YMCA Executive Director, Michael Brunker who just happens to be from Detroit. We met for lunch and he posed, the question what would I like to do? I mentioned to him, my experience in drumline at Grambling State and, he instantly said,' I always wanted to start a drumline at the YMCA,' and things just took off from there.
TCV:  What type of music would you say has the most impact or, the best to "rock out" on a drumline?
Ms. Tee:  The best type of music to rock out on a drumline is RAP. It has the most influential sound and the best timing for the beats.   It's the hardcore beats that give the kids that extra energy they need to make up their own beats.  It also allows them to create moves and to create their own words. Like in the song they're performing in today's video shoot, "Inspire Through My Eyes." The song is an expression of how they feel. 
TCV:  What's your favorite quote?
Ms. Tee:  "A life is not important except in the impact it has on other lives," by Jackie Robinson. That's how I view my life. The most rewarding part of my life is what I do because I do it as a volunteer, no incentives and no pay.  Pay for me, is when the kids come up to me and say how much they enjoy drumline. It's about seeing the smiles on their faces and, the parents who understand all of the hard work that goes into it and, their able to see the change in their kids. That's my motivation and with that, everything else just comes naturally.  I'm extremely blessed in so many other areas of my life.
I also want to add this: I guess you can say that, the way things are going on in my native city Detroit, people not valuing life an so on and so on, if I can be apart of an intervention right here in San Diego, by keeping kids off the street, starting with one kid at a time that is truly a blessing in itself.
Jackie Robinson Family YMCA "Thunder Squad" is open to Students ages 9-19.  For more information contact:  Tyra Hawthorne, Drumline Director, 619-407-0112 or [email protected]