Monyca Cunningham, host of  her daughter Lauren's, graduation party in California shares her favorite recipe, tasty Holiday Snack Sandwiches.
When planning a holiday get together, do you ever find yourself wondering, what's quick and easy that will leave my guest asking, what's the recipe?
Recently, I attended a graduation party in December and tasted the most mouth watering holiday snack sandwiches.  As the cheesy onion flavor melted in my mouth, I immediately thought, 'this is perfect for my guests.'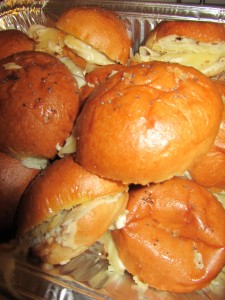 Recipe:
1 Tub of Country Crock (Regular)
1⁄4 cup of poppy seeds
1 cup of dried onion
Mix and let sit  above ingredients for about 1 hr.
24 rolls cut in half
Ham or Turkey(shaved)
Swiss/American cheese slices Cut in half (24)
Shredded Mozzarella Cheese ( 1 Cup)
Cut meat in half, place bottom of rolls in foil pan spread with country crock (butter inside roll).
Sprinkle with mozzarella, place meat, cheese slices ( crisscross)  then butter top of roll.
Cover with foil.  Bake 25min @350 degrees.
Enjoy!