"I learned that courage was not the absence of fear, but the triumph over it. The brave man is not he who does not feel afraid, but he who conquers that fear."  Nelson Mandela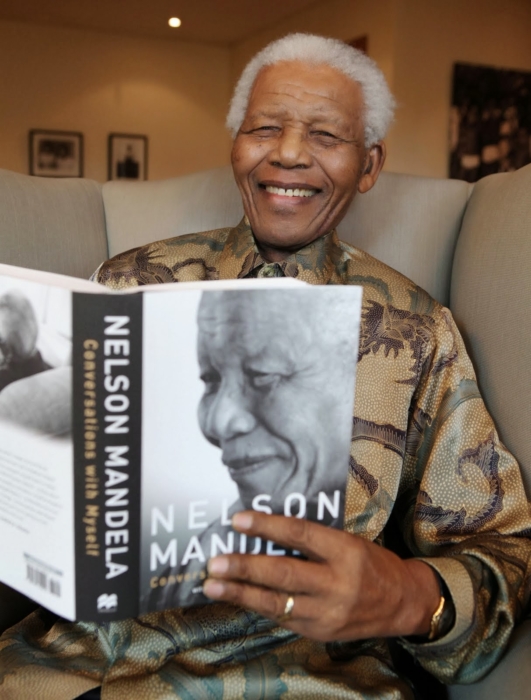 On this day, Rolihlahla Mandela was born. Mandela's given name Rolihlahla, his schoolteachers were unable to pronounce. As it turns out, one of them started calling him Nelson after British admiral Horatio Nelson, and the name obviously stuck. Rolihlahla, a name given to him by his father means "trouble maker" or "pulling the branch of a tree."
Mandela, became a member of the African National Congress party beginning in the 1940s, he was a leader of both peaceful protests and armed resistance against the white minority's oppressive regime in a racially divided South Africa. His actions landed him in prison for nearly three decades and made him the face of the antiapartheid movement both within his country and internationally.
Released in 1990, he participated in the eradication of apartheid and in 1994, he went on to become anti-apartheid activist Nelson Mandela, South Africa's first democratically elected president, and the oldest person elected to office.
During his lifetime, Mandela received more than 695 awards, including the 1993 Nobel Peace Prize. More than 25 schools, universities, and educational institutions have been named after him. At least 19 scholarships and foundations bear the name Nelson Mandela, and more than 95 sculptures, statues, or pieces of art pieces have been re-created of him or dedicated to him.
Today we honor and celebrate the iconic Nelson Mandela, for his work for freedom and human rights. Here are are few wise quotes to live by–
 "Education is the most powerful weapon which you can use to change the world."
"When people are determined they can overcome anything."
"Do not judge me by my successes, judge me by how many times I fell down and got back up again."
"When a man has done what he considers to be his duty to his people and his country, he can rest in peace."
Happy birthday Nelson Mandela, may your soul rest in eternal peace.