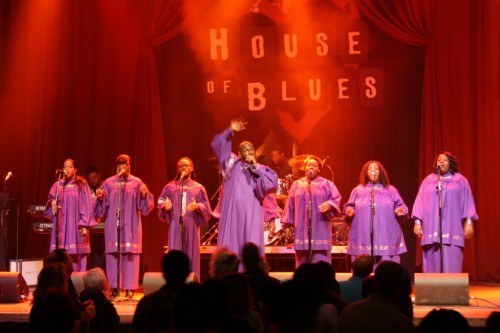 SAN DIEGO, CA – March 4th, 2013– House of Blues, the country's pre-eminent live music venues are in the midst of a 20 month celebration of 20 years of music by 20,000 of history's great musical performances.  House of Blues San Diego will take part in the festivities on March 7th  with an exclusive VIP Cocktail Event, sold out Flogging Molly show, and a must attend after party.
House of Blues' celebrity chef, Aáron Sanchez (Food Network's "Heat Seekers" and "Chopped"), menu items will be highlighted during the VIP Cocktail event taking place in the House of Blues 5th Avenue Side Stage.  The party will also include signature House of Blues cocktails, entertainment and more!
Guests attending the 20th Anniversary Flogging Molly show in House of Blues San Diego's Music Hall will be welcome to join in the festive atmosphere before, during and after the show.  Crossroads at House of Blues will be offering drink and food specials along with entertainment and prizes.  A balloon drop will cap off the Flogging Molly show after which guests will be invited to take part in the after party in the Delta Room.  Music, specials, and a glimpse of the band will keep the revelers going late into the night.
As part of the 20-month 20th anniversary celebration featuring major sponsors Citi and Hertz, House of Blues tours are being scheduled throughout the U.S featuring bands such as Flogging Molly and NOFX.
Additionally, in the spirit of the founding precepts of the House of Blues, venues across the nation provided 20,000 Thanksgiving meals to the needy.  The International House of Blues Foundation, dedicated to bringing the arts to schools and communities through its "Action In The Arts" programs that promote cultural understanding and encourage creative expression, will be offering numerous HOB 20th Anniversary activities.
For every ticket sold for HOB's 20th Anniversary concerts, $1 will go towards supporting "Action For The Arts."
The first House of Blues was established in Harvard Square and in the ensuing 20 years House of Blues produced the Super Bowl XXXI Halftime Show, presented the first-ever live-music, broadband-pay-per-view event on the Internet and changed the landscape of the world-famous Sunset Strip when House of Blues Los Angeles opened to a star-studded crowd featuring Dan Aykroyd, Jim Belushi, Bruce Springsteen, Steven Spielberg, James Brown amongst many others.
Performers like Eric Clapton, Aerosmith, Jay-Z, Aretha Franklin, Elton John, Deadmau5, Mary J. Blige, Kanye West, Stevie Wonder, Foo Fighters, John Mayer, Prince, Rihanna, D'Angelo, Elvis Costello, Duran Duran, Carlos Santana, Beastie Boys, Eminem, Justin Timberlake, BB King, Brad Paisley, Ozzy Osborne, Tupac and countless others have given legendary performances at The House Of Blues.
"For two decades House of Blues has been a special home for fans and performers to share musical moments and memories unlike any others.  As we head in to our next 20 years and the next 20,000 performances, we wanted to make sure we celebrate in the way we know best:  Showcasing the greatest music of today and tomorrow," stated House of Blues Chief Executive Officer Ron Bension.
Mark P. Frissora, Hertz Corporation Chairman and Chief Executive Officer said,  "Hertz is also excited to be one of the sponsors of the House of Blues' 20th Anniversary.  Since its inception, the House of Blues has been instrumental in celebrating diversity and brotherhood of world culture, values Hertz cherishes as a global organization with locations in more than 160 countries worldwide.   Hertz and the House of Blues both value music and fun, educational experiences and we're pleased to be part of this year long celebration."
About The House Of Blues
With 38 owned/operated clubs and theaters, The House of Blues Entertainment portfolio, a division of LiveNation, is wide-ranging including the legendary Fillmores and the intimate House of Blues clubs throughout the United States.
Source:  Press Release