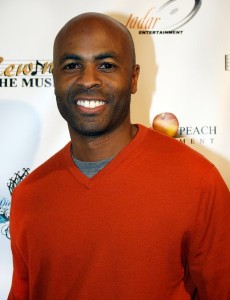 If you had the opportunity to catch season one of R&B Divas: LA, you saw that director Fred Thomas, Jr.'s presence caused quite a stir.
 When the  handsome man with that warm smile was first introduced to audiences on TV-One's highest rated primetime reality TV show, it seemed highly unlikely that he would bring drama to the show.  Then all of a sudden sparks began to fly, tempers flared up and the next thing we saw was conflict among the Divas, placing Fred right smack in the middle of a complete mess surrounding the production of a new show entitled: "Divalogues."
In a candid phone interview, we found out there's so much more to Fred Thomas, Jr., and we're delighted he took some time to share his interesting personal story with The Chocolate Voice.  The seven time 2012 NAACP Theatre Award nominee and winner of Best Director, Best Playwright and Best Producer is both a huge talent and an overall nice guy who's fascinating to chat with.  Read on…
TCV: Tell us a little bit about your life and how growing up in Philly influenced your choice to become an entertainment professional.
FT: It was pretty much something that was instilled in me.  I was always interested in the entertainment business when I was young.  I used to write, direct and act, but I didn't know that that's what I was doing.  I liked to entertain people.  Some influences I had at that time were Richard Pryor, Steve Martin and Mel Brooks.  Mel was one of the first people I realized was a writer, director and actor.  I tailored my little performances to those types of guys.
 TCV: Is anyone else in your family in entertainment?
FT: No, it is just something that is in me.
TCV: You studied journalism at Lincoln University, and went on to earn your master's at Temple University, where you founded the Black Media Collective.  Tell us about why you founded the Black Media Collective at your alma mater.
FT: While I was at Lincoln, I realized I was not a big fan of journalism.  I would rather create the story than go out and try to find it.  I come from a blue-collar family, so for me, college was about getting a degree and making a better life for myself.  My passion for creating, writing and acting was always in me, so when I graduated I did a bunch of different internships at places like MTV and the Philadelphia Drama Guild.  I became a part of these organizations to enhance my acting, writing and directing skills.  I decided I wanted to get my hands on some equipment so that I could shoot my own films.  I did my research, and I came across the Temple Sale program, which offered a scholarship to students who had gone to Lincoln University.  I applied to the program, and I had to submit a film and do a bunch of other things.  My whole film career started there.  There was a lack of unification among black filmmakers, and we did not know who did what amongst ourselves.  One important thing we did was put together a black film festival featuring African American films, and from there, the organization was started.  An important part of forming a campus organization is finding an advisor, so I thought of who would be interested, and decided to ask Professor Sonya Sanchez.  I met with her and told her what we wanted to do, and she came on board as our first advisor.
TCV: How did you transition from school into the entertainment industry?
FT: Pretty much the day I graduated, I got a call from my buddy, Charles Stone III, whom I worked with on a short film, "True," that he wrote.  The film centers around two guys on the phone talking about sports, just like guys do while they are watching a game.  Charles got a call from Budweiser saying that they wanted to turn it into a commercial, so we went on the road, doing promotions and guest appearances around the world for about two and a half years, starring in the Whassup commercials.  That is pretty much what got me to LA, but I was on my way anyway with my short films and my degree.  My plan was to make movies and be in movies, but when I got that call I decided the Budweiser commercial would help me get my foot in the door in LA.
TCV:   I remember those Whassup commercials, those were so funny!  You wear many hats: actor, director, producer and screenwriter. Which role is the most challenging for you?
FT: The most challenging thing for me is the writing because I am creating something out of thoughts. It may seem easy, but there is a formula to presenting it to an audience and having that audience feel on screen what you have written on paper.  You have to understand what sparks peoples' emotions and makes them laugh or cry, and how to create characters the audience can relate to.
TCV: How do you feel about the controversy surrounding films such as The Help and The Butler that star African Americans? Why do you think some viewers say there are enough of these types of films?
FT: I think people are saying that there are enough of those films because they are the only films being highlighted.  The way you have to look at it is that they are still our stories.  This stuff really happened. I think those with influence within the industry highlight those stories.  What we need to do is to highlight a story we want to be highlighted. We have to go and see those movies. When the numbers are coming in and they see that black folks are going to these specialty movies, or movies about everyday people undergoing amazing changes in their lives, then those stories will be elevated to a different status.
TCV: Tell us about your experience directing the reality TV show the Divalogues. How would you compare your experience directing a reality TV program to directing short films?
FT: I would say the difference is control. When I have worked on shorts, I have had a game plan. With the Divalogues, I started out with my own game plan, but when I walked into the situation there was confusion and tension, so that redirected my original plan.  I had to think about how to get us back on track.  The challenge for me was deciding how to get everybody on the same page. I was trying to learn everybody's attitude and demeanor and develop relationships with them while also learning about all of the things that have happened to them in their lives.  I had to take all of that and turn it into an art for an audience to see, connect with, and embrace.  It was a challenge to have to do that when I didn't know how my initial day was going to go when I got there.
TCV: How did the Divalogues come about?
FT: The ladies wanted to do a piece about things that have happened to them in their lives.  They wanted to touch others and let people see another side of them. They wanted people to know that they have gone through things just like regular people do. It is a mix between Vagina Monologues and MTV Unplugged.
TCV: How were you contacted to do the show?
FT: There were people there that knew my work and had seen my shows. They had heard about me through managers as well. Between the discussions of producers and managers I got the call to come in and help the situation. I had just won a bunch of awards, so some things were buzzing about me.
TCV: Congratulations on being acknowledged for those awards. We heard about you winning the NAACP Theatre Award. Which of your projects won the award?
FT: Yes, I won the award for directing, producing, and playwriting. I won the award for my play Twelve by Nine.
TCV: From your perspective, what was Kelly Price's issue with you (Fred) directing Divalogues?
FT: I think it was mostly a control thing. From what she had been saying since I first met her, she believed she was the quarterback of the whole thing. To my understanding, it was collective. The show is kind of like working with a board, where you present an idea and then it is voted upon. With Kelly, when it was her idea, she wanted to spearhead it all the way through. That's the only thing I took from it.
TCV: Divalogues isn't going to be what we already saw on R&B Divas: LA, correct?
FT: No, it is going to be the show,  from beginning to end, with commentary. There may be some things shaved down for time purposes, but you are pretty much going to see the entire performance from the beginning to the end.   Chante Moore, Lil' Mo, Claudette, and Michel'le will be on the show.
TCV: Can you tell us if R&B Divas get renewed for a second season?
FT: I think they will be coming back. They keep all of that stuff secret. You just get a phone call saying the show is back. It was definitely an amazing show with an amazing cast, and it was well received. They blew the numbers out of the box. It was one of the top-rated shows in TV One history. It is very likely that they will want to do a second season. I don't know if it will have anything to do with me coming back. It's their show, so I don't know.
TCV: Did you have anything to do with the musical part of the show?
FT: The music was arranged by Phillip Bryant, who is Lil' Mo's husband. He is an amazing musical director. He came in and listened to what the ladies wanted to do musically, and brought the band and the backup singers in. He did a phenomenal job. He and I wrote the opening song for the play. As far as the music goes, that was all him. I may have recommended a song or two, but his arrangement took it to a whole new level.
TCV: Will the Divalogues go on the road?
FT: We're talking about it.  People's schedules are getting booked. Some of the ladies are on tour all around the world right now. It definitely would be amazing to see that on the road. People would really love to see that live.
Divalogues will premier this Saturday, October 5, 2013, on TV One at 10pm/9pm central. There will also be an all-day marathon beginning with the first episode of R&B Divas, and ending with the reunion before Divalogues premiers.