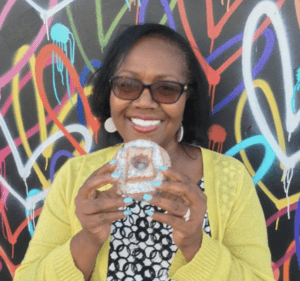 Oh hey ya'll, since it's National Donut Day, we've decided to share a few of our favorite donut shops.
First stop, we enjoy a going to little spot in Spring Valley, CA off of Paradise Valley Rd., called KT Donuts.  Not much of variety, that said, the donuts come out fresh daily and your basic glaze and maple are delicious! Key word here is fresh!
Second stop is, Streetcar Merchants of Fried Chicken, Doughnuts & Coffee.  Yum!  Fried chicken and doughnuts, very tasty with cool names like collards, which has a spicy kick to it.
Next stop, VG Donut and Bakery in Carlsbad, California. Believe it or not, we recently found out about this place through friends from Portland, Oregon.  What the what!  But, thanks guys! Seeing that we're coming from South County, during one of our frequent trips up to L.A., making a pit stop at VG's is a must. The cake donut is a killer!
Speaking of L.A., and Portland, our last pic, Blue Star Donuts is the BOMB! We've tried them in both locations. It's worth mentioning that our favorites are Lemon Poppy and Buttermilk Old Fashioned. To die for, seriously!
Now, those are just a few of our favorites, what's yours?