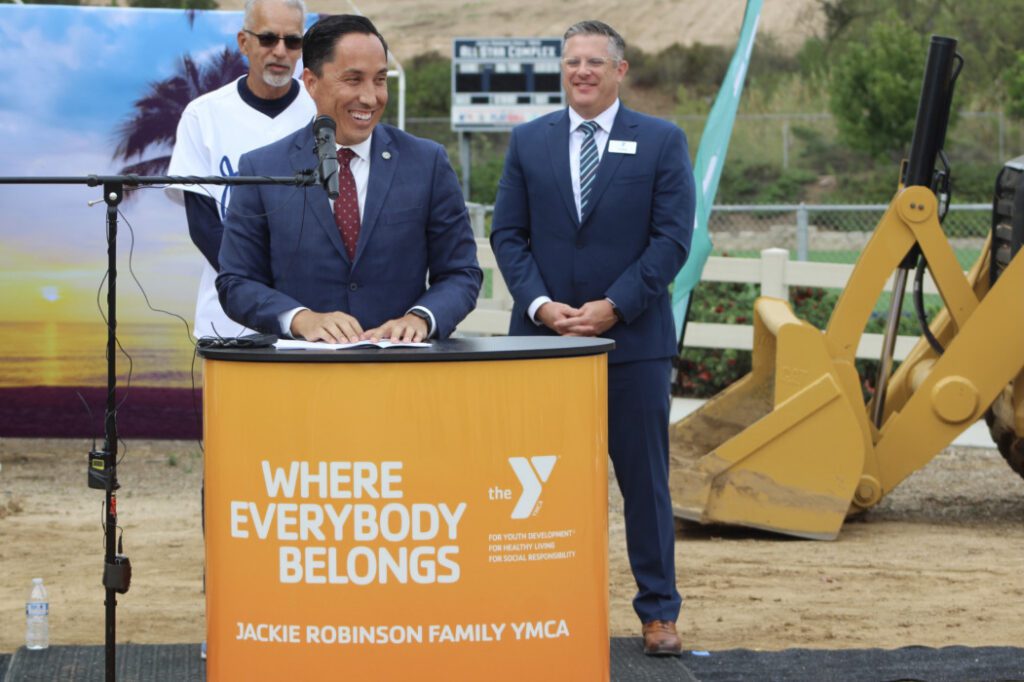 (San Diego, CA) The highly anticipated second phase of the total renovation of the Jackie Robinson Family YMCA, which will include an aquatic center with a 6-lane, 25 yard pool and a family splash pad, area took a giant step closer to reality on Thursday, October 7, with a groundbreaking ceremony at 151 YMCA Way in Southeastern San Diego.
A crowd of approximately 75, community donors, elders and YMCA supporters gathered to hear representatives talk about the benefits of having an aquatic center in the community that will offer— swim lessons and water safety, family swimming, rehabilitation and fitness, competition and all around fun.
Key community leaders that joined in the celebration included—Master of Ceremonies, Michael Brunker, Anna Arancibia, Executive Director, Jackie Robinson YMCA, YMCA CEO Todd Tibbits, California Secretary of State, Dr. Shirley Weber, Mayor Todd Gloria, City of San Diego, Assemblymembers, Lorena Gonzales, Dr. Akilah Weber, Councilmember, Monica Monica Montgomery Steppe, Dee Sanford, Board Member, Greg Hunter, Chairman of the Board, Jackie Robinson Family YMCA, Bevelynn Bravo, Member of the Jackie Robinson Family YMCA , and Amos Johnson, Rev. Pastor Emeritus of New Creation Church and Member of the Jackie Robinson Family YMCA.
Also in attendance to celebrate the momentous event in celebration of the new community asset was longtime San Diego public servant Leon Williams, who recently turned 99 years old.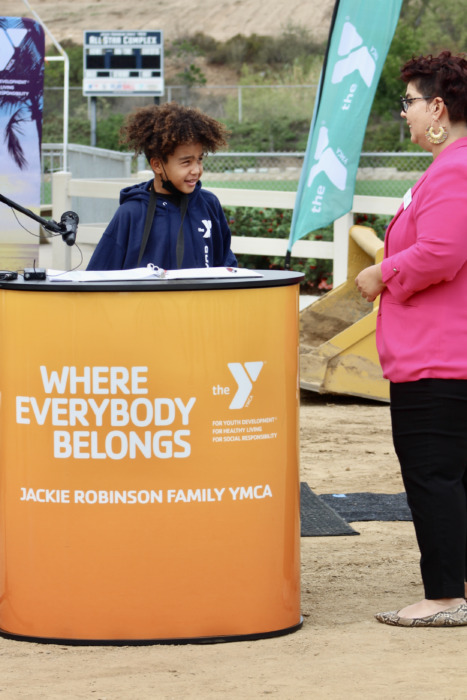 "We can create something that we don't really have here in San Diego, which is a diverse swim team. The ability to go to a swim meet and see other people that look like you, is rare. And I can say that from experience. This is really going to be a life changing thing in our community." Said Dr. Akilah Weber
Phase One of the 19-month, from-the-ground-up 28 million renovation was completed in the fall of 2017.
---