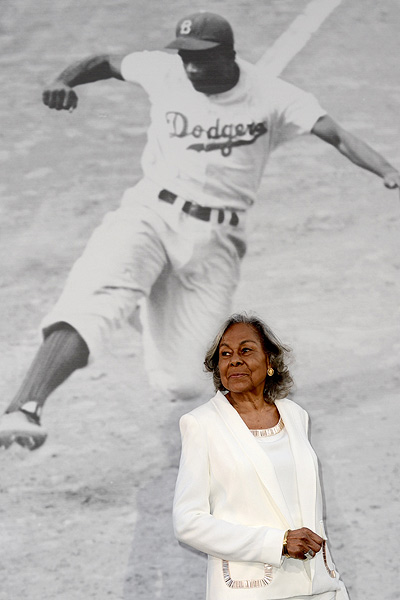 "42," the newly released biopic may be based on the life of baseball legend Jackie Robinson, but at its core, the film re-creates a love story between the history-making player and his wife, Rachel now age 90.
Chadwick Boseman, 36,  stars as Jackie Robinson tells urban daily.com, "One of the things that struck him about the script was the fact that it was a love story."
First lady Michelle Obama, was quoted as saying after a White House screening. "Every American should see this film."
The film stars Harrison Ford, who in an interview with E-Online says,  The film is important for young people to see what discrimination felt like.  Ford plays Branch Rickey, the pioneering Brooklyn Dodgers executive who signed Robinson (who wore number 42 when he made his major-league debut in 1947).
28 year-old Nicole Beharie, who stars as Rachel Robinson, tells the New York Daily News  that she was particularly struck by Robinson's experiences early in her life, including traveling with her husband to spring training in Sanford Florida, where she first encountered the kind of institutionalized racism that was part of the Jim Crow era.
Wriiten and directed by Brian Helgeland "42" hits theaters nationwide Friday, April 12.