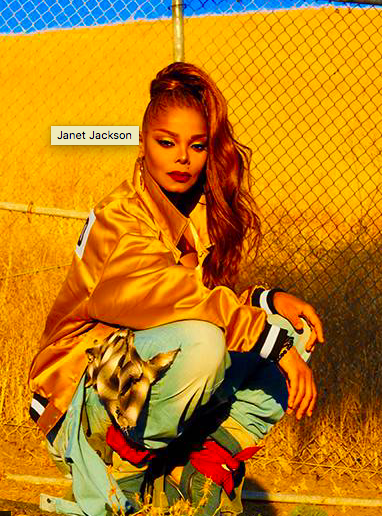 SANTA MONICA, CA (May 7, 2018) – Dick Clark productions and NBC announced today that music legend, Janet Jackson, will be honored with the prestigious ICON Award at the "2018 Billboard Music Awards," and will deliver a highly-anticipated performance that will be her first on television in nine years.
Hosted by "The Voice" coach Kelly Clarkson, the "2018Billboard Music Awards" will broadcast live from MGM Grand Garden Arena in Las Vegas on Sunday, May 20 at 8 p.m. ET / 5 p.m. PT on NBC. The three-hour telecast will feature performances from this year's hottest musical acts, unexpected collaborations and buzzworthy moments that celebrate 60 years of the Billboard Hot 100.
Janet Jackson Billboard chart facts include:
As a leading voice in music, Jackson has earned more than 100 No. 1s on Billboard's charts in her career, spending more than 300 weeks at No. 1.
She has 19 No. 1s on the Dance Club Songs charts.
Jackson is one of only four artists to have a No. 1 album on the Billboard 200 in each of the last four decades.
She was the first woman to debut in the Top 10 of the Billboard Hot 100 (with "Scream," her duet with brotherMichael), and the only artist with seven Top five Hot 100 hits from one album ("Janet Jackson's Rhythm Nation 1814").
She owns a record of 18 consecutive Top 10 hits on the Hot 100 and is also the only artist to have three different albums each contain at least five Top 10 hits on the Hot 100 ("Control," "Janet Jackson's Rhythm Nation 1814" and "janet").
Previous recipients of the ICON Award include Cher, Neil Diamond, Celine Dion, Jennifer Lopez, Prince and Stevie Wonder.
Janet Jackson is one of the most influential entertainers of the modern era. She has won six Grammy® Awards, a Golden Globe Award, earned two Emmy nominations, a nomination for an Academy Award as well as dozens of American Music Awards, MTV Video Music Awards and Billboard Music Awards. She has received accolades as an actress as well, including the NAACP Best Supporting Actor award. Jackson is a published author, dancer, businessperson, philanthropist and one of the biggest-selling artists in popular music history. With sales of over 160 million records worldwide, Jackson stands as one of the best-selling artists of all time with a string of hits that have left an indelible impression on pop culture. Her music and artistry has opened doors through which other top artists have followed, many acknowledging her impact on their musical perceptions. For more information please visit janetjackson.com.
Billboard Music Awards" were announced last month on NBC's "Today" and on a livestream from Billboard's New York office. Kendrick Lamar, Bruno Mars and Ed Sheeran tie for the most nominations this year with 15 each.
Voting for the two fan voted categories – Billboard Chart Achievement Award and Top Social Artist – will open on Monday, May 14 and additional details will be available soon.
"Billboard Music Awards" nominees and winners are based on key fan interactions with music, including album and digital song sales, streaming, radio airplay, touring and social engagement, tracked by Billboard and its data partners, including Nielsen Music and Next Big Sound. The awards are based on the reporting period of April 8, 2017 through March 31, 2018. Since 1940, the Billboard charts have been the go-to guide for ranking the popularity of artists, songs and albums, and are the ultimate measure of success in music.