(San Diego, CA) Over the last few summer's, Jazz at the Creek has developed into the city of San Diego's hottest concert series to watch out for. In its 4th year, Jazz at the Creek has increased tremendously in popularity, becoming a Southeast San Diego landmark, drawing thousand's to the unique smooth jazz venue.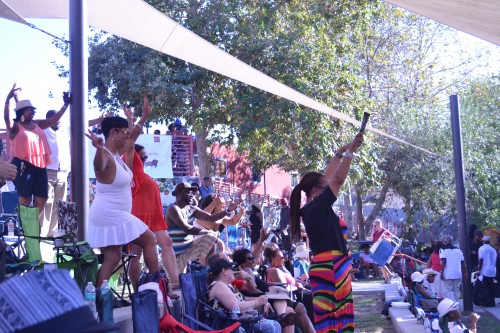 This year, The Chocolate Voice especially enjoyed the extremely hot, in more ways than one finale. We'd say that Jazz at the Creek closed out summer on a high note.
Temperatures in San Diego reaching the hundreds over the week-end, just wasn't enough to stop fan's from enjoying the outdoors venue.
Smooth Jazz enthusiast flocked to the last show of the series featuring, the smooth pristine vocals of San Diego based songstress Daneen Wilburn and her Grammy-award winning band, who hit the stage first.
Next up was the exceptionally talented Fayetteville, NC musician, Reggie Condrington and his outstanding band, joined by San Diego native and extraordinary harpist Mariea Antoinette, who came up on stage for the last half of the performance.
Reggie, an outstanding saxophone player shared with the audience that he suffers from cerebral palsy, a medical condition which in no way affects the precision of his artistry. This man gave it his all in an amazing performance!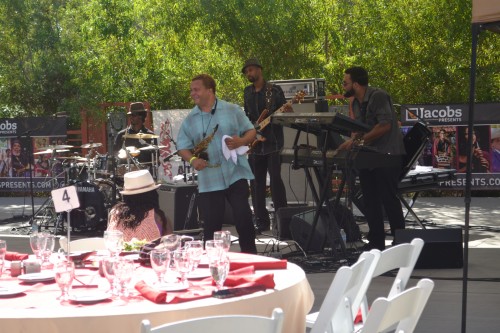 Headliner guitarist Nick Colionne, known for his outstanding showmanship, lived up to his reputation. Colionne's style of getting up close and personal with the audience was one of the many highlights of the afternoon.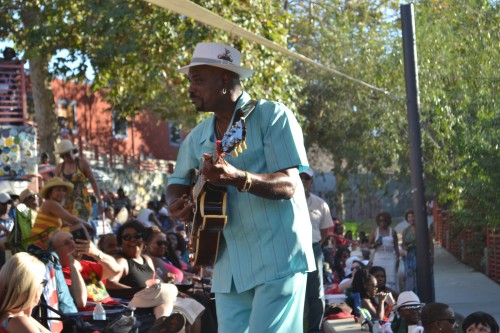 Jazz at the Creek presented by M.A.N.D.A.T.E Records brings Jazz with purpose. It's an opportunity for members of the community, as well as jazz enthusiasts to enjoy great music from local and international artist in a multicultural atmosphere.
Additionally, a portion of the proceeds from Jazz at the Creek goes to programs that provide weekend food packages to chronically hungry elementary school students from low-income households, whose only meals are provided at school. The Food 4 Kids Backpack Program is implemented under the San Diego Food Bank.