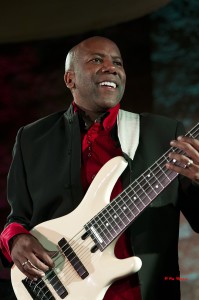 The NAMM Foundation will induct revered engineer -mixologist Ed Cherney and bassist Nathan East into the NAMM TEC Awards Hall of Fame during the 30th Annual NAMMTechnical Excellence & Creativity Awards show, to be held Saturday, January 24th in Anaheim, Calif.
Renowned bass player Nathan East, a graduate of UCSD, is a founding member of contemporary jazz quartet Fourplay, and has worked with the legends of music that range from Daft Punk, Eric Clapton, George Harrison, Beyoncé, Phil Collins and Michael Jackson to Italian tenor Andrea Bocelli. More than 2,000 recordings make East one of the most recorded bass players in the history of music.
GRAMMY Award-winning instincts make Ed Cherney one of the most sought-after audio engineers in the business. His decades long work as engineer, mixer and producer can be heard on some of rock's most enduring recordings from Bonnie Raitt, The Rolling Stones, Sting and Eric Clapton. Cherney's work can also be heard on several hit TV and film soundtracks and scores.
Nominees for Outstanding Creative Achievement include production teams for Lady Gaga & Tony Bennett's "Anything Goes," Justin Timberlake's "Not a Bad Thing," Jack White's Lazarettoalbum and more. Sound production nominees in TV and film range from Captain America'ssound production team to creatives behind the remote production of the Back to Front: Peter Gabriel Live in London DVD. Eight categories will include Film Sound Production, Interactive Entertainment Sound Production, Studio Design Project and Tour/Event Sound Production and more. The full list of 2015 creative nominees can be found here.