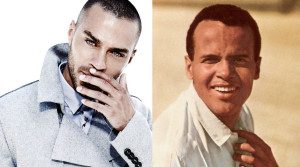 via theroot.com
This is a biopic many will be proud to hear about.
Grey's Anatomy's Jesse Williams not only will produce but is also starring in a biopic based on Harry Belafonte's life! Williams revealed the information during an appearance on Denzealots, a podcast by comedians W. Kamau Bell and Kevin Avery.
The coupling of Williams and Belafonte definitely isn't a reach. Both are amazing actors, but activism also plays a huge role in their lives.
"I care more about activism and social justice and law than I do about acting. I have an awesome job that I love, but there's this magnetic force that is constantly pulling me toward activism. I just have to do it," Williams said.
There aren't too many details about the project, but we're definitely happy to hear that it's happening.
We at The Chocolate Voice can't wait for this film!