CHICAGO (Via Press Release) — In the September issue, JET presents two covers – one with Anthony Anderson and Tracee Ellis Ross as they prepare to launch their new program, black-ish, and their second annual "40 Under 40 list," featuring none other than the Jackie Robinson West Little League national champions as the iconic image.
Shows such as The Cosby Show, Family Matters, The Fresh Prince of Bel-Air and My Wife and Kids were programs that depicted the African-American family on mainstream television in a positive light.  However, the presence of the Black family on network television has been largely missing, other than on reality shows, since these programs went off air.  This fall, the showblack-ish is set to premiere on ABC on September 24, quenching the desire of those looking for diversity in their television programming.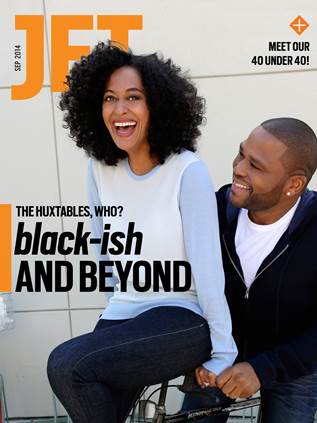 "Around the time of President Obama's presidency, it seems like there was a switch toward the reality representation of Black families, "said the show creator Kenya Barris.
"Now you have Love & Hip Hop or Hollywood Exes that show Black families as a lot more disrupted."
Unlike the Cosby Show, black-ish explores how a well-to-do African-American family in a predominately White neighborhood deals with maintaining their Black cultural identity while also "assimilating" into the culture of their neighbors.
"I think it's a lovely thing that we're being compared to something as great as The Cosby Show was at its time, but we're not trying to emulate them," said Anderson about the show.
Anderson will play the family's father, Andre Johnson, and Ross will play his wife, Rainbow Johnson.  black-ish airs on ABC September 24 at 9:30pm. Click here to view the official trailer.
Also in the issue, JET reveals the publication's "40 Under 40″ list, which includes the most influential movers and shakers in the African-American community under the age of 40.  The list includes individuals who have household names to those who may actually live next door.  The young men from the Jackie Robinson West Little League team, who won over the hearts of many Americans, are included in the list for being the first all-Black team to win the national championship in the Little League World Series.
On a more somber note, JET also includes a special Census, memorializing unarmed African Americans who have died at the hands of police, including Michael Brown, whose death has galvanized the Ferguson, MO. Community and shined a spotlight on the often strained relationship between law enforcement and citizens of color.
The JET September issue is now available in Apple, Google Play and Amazon stores for download.  The magazine has extended the free trial period until September 30.  Tips on how to download the latest edition of the JET digital magazine can be found at jetmag.com/godigital.  Content on the app is refreshed every Friday on the "Weekly Tap In" and "Beauty of the Week" pages.