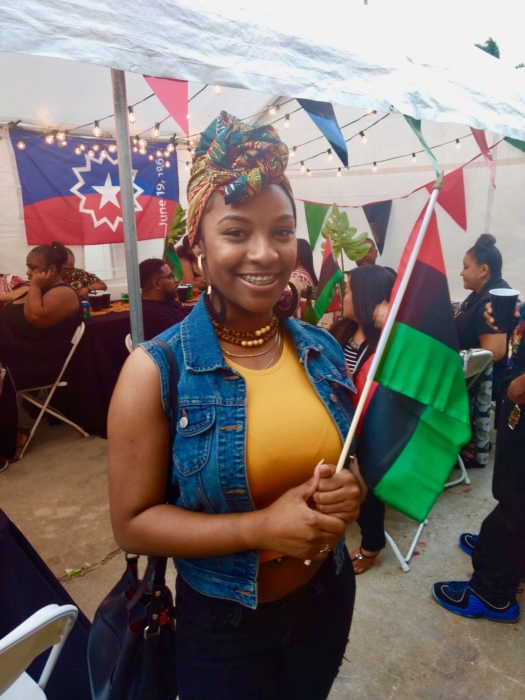 Today is Juneteenth, also known as Juneteenth Independence Day or Freedom Day, which commemorates the emancipation from slavery in the United States. 
Growing up in Arizona, my family has always celebrated Juneteenth, especially with the majority of us being from Texas. In Tucson, where many of my family left Texas to live, I recall the Black History celebration as a vibrant two-day event filled with food, games, entertainment, live bands and history lessons. And held in one location—either a city park or a large community center.  Keep in mind, when I lived there the population was less than one percent Black.  
From what I've heard, the celebration lives on and remains in one central location.  See tucson.com article for more details on this years celebration.
In San Diego, California, the city where I've lived for my entire adult life, I've observed Juneteenth celebrations being spread out across the county, with the largest one being the Cooper Family Juneteenth. This one is celebrated similar to what I've experience in Arizona. See San Diego Union Tribune's story on this years Cooper Family Juneteenth.
This year, my family was invited attended a more intimate celebration in Carson, CA, at the home of two young millennial sisters. The Poe Sisters, who asked that guest come dressed African print attire, decorated their home festively themed in the colors of Africa—Red, Black and Green, featuring  three flags, African, Black Lives Matter and Juneteenth. Tables were covered with black table cloths lined with kente cloth table runners,  candles, plants and an informational pamphlet which invoked learning and chatter among guests about the history of Juneteenth.  
The main festivities were held in the back yard, which included a delicious soul food menu (ribs, chicken, mac'n cheese, greens, and more), poetry reading, a test about the history of Juneteenth, and card games such as: spades and the original Black Card Revoke. If you haven't played Black Card Revoke, it's a must and so much fun! 
Whether you celebrate it at large or small gathering, it's important to know the history of Juneteenth and how it represents a turning point in American History.
In honor of Juneteenth here a six facts that represents the turning point in history.
Juneteenth (The nineteenth of June) marks the day in 1865 when the Union Army's Maj. Gen. Gordon Granger landed in Galveston, Texas, and declared that all slaves were now free.

This event happened two years after Abraham Lincoln issued the Emancipation Proclamation, but Lincoln's freeing of the slaves was only on paper, and the ongoing Civil War prevented freedom from becoming a reality as many plantation owners withheld the news.

Juneteenth marked a turning point in the fight to free fellow humans from the bonds of slavery, and African Americans in Texas celebrated it as a day of freedom. There were other options for an official holiday marking the end of slavery, including September 22, which was the day in 1862 when Lincoln issued his preliminary Emancipation Proclamation Order on January 31, the date the 13th Amendment passed Congress in 1865 and officially abolished the institution of slavery. However, it was Juneteenth that stuck.

In 1979 Texas became the first state to make Juneteenth an official holiday. Now the day more widely represents the emancipation of enslaved African-Americans.

While it's not an official national holiday, Juneteenth is now a state holiday or a day of observance in most states and the District of Columbia, with only Hawaii, Montana, New Hampshire, and the Dakotas holding out. For those that do celebrate, parades will take place around the country, including in New York, Texas, and Philadelphia, and communities across the country will host barbecues and picnics to celebrate the historic event.

This year, many are also calling for a day of action as a reminder that the struggle for equality and racial justice is far from over.
By:  Gwen Pierce