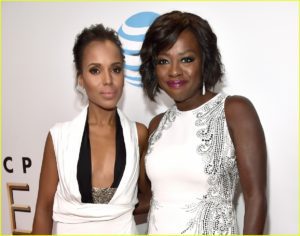 ABC is building on their relationships with two of the network's biggest stars, as "Scandal's" Kerry Washington and "How to Get Away with Murder's" Viola Davis, have both inked individual overall deals with ABC Studios.
Under the new agreements, both actresses will develop new projects for broadcast, cable, and streaming services through their respective production companies – JuVee Productions (Viola Davis, along with partner Julius Tennon); and Simpson Street (Kerry Washington).
The recent HBO film "Confirmation" in which Washington starred as Anita Hill, was the first project produced under Simpson Street, which ABC Signature was also behind.
"I believe strongly in the importance of having a seat at the table which makes starting this production company thrilling for me. It's an honor to be at a point in my career when I can help generate projects that that are exciting, necessary, and truly reflect the world around us," Washington said in a statement. "I'm grateful to be on this journey with ABC, a network that remains unparalleled in its commitment to inclusive storytelling."
"We started JuVee because we wanted to see narratives that reflected our multi-ethnic and multifaceted culture," said Davis. "We wanted to be a part of classic storytelling, and we didn't want to wait."
Congratulations, mommies!  We can't wait to see what kind of programming originates at the helm of these two talented ladies.