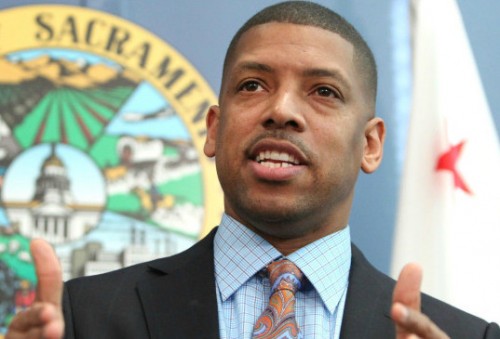 Kevin Johnson, former NBA player and the mayor of Sacramento, is assisting Clippers players in handling the fallout from recent racist comments allegedly made by team owner Donald Sterling. Johnson joined "News One Now" with Roland Martin to discuss what's next for the players and what result they want in the matter.
Below is the interview of the Sacramento mayor's conversation with Martin and why he says players aren't boycotting their games but are demanding action.
You can listen to the audio of the interview here: http://player.theplatform.com/p/BCY3OC/FdyDRHtFeBqI/select/5Ul6uuh7LAPS
Or read the interview below.
RM: On the phone lines right now we have Kevin Johnson. He is the mayor of Sacramento. He also is a long-time point guard in the NBA for the Phoenix Suns and he has been tapped by the players to be their spokesman on this particular issue. Mayor Johnson, welcome to "News One Now" on TV One.
MKJ: Awesome. Thanks. Roland. How are you?
RM: Doing great. I'm sure this is the last thing you would want to be doing. This is fantastic playoffs for the NBA. Lots of overtime games going on, lots of great play. But unfortunately, the focus is on Donald Sterling. Where are the players right now in terms of where they stand on what needs to be done to this owner?
MKJ: Yeah, let me first say that, you know, these audiotapes of his comments made by Mr. Sterling, you know, are true. They are reprehensible and completely unacceptable and they represent the worst kind of ignorance and intolerance and it's not representative of what we stand for in terms of the NBA. I am proud that — and humbled that the players association President Chris Paul called on me to represent the players' collective voice in this shocking situation. And what we did immediately was have an emergency phone call with the executive committee and the player reps and I received tons of e-mails and calls and if I had to put in one word what the players are feeling, its outrage. They were stunned. They went to outrage and now they want swift action and players have also said to me very clearly, there's got to be two-way accountability. You can't hold the players', their code of conduct to the highest standard, which is what we want, without holding owners and their conduct to the highest standard as well.
RM: You talk about that. Obviously, Silver, he has to walk a very careful line. You've got numerous owners here as well. Michael Jordan, who owns the Charlotte Bobcats, he has come out and provided his statement of outrage. Also, the owner of the Miami Heat has spoken, but the reality is, you look at someone like Mark Cuban, very outspoken, hasn't said anything at all. At the end of the day, people want to put the onus on the owners and the players, but this is where fellow owners are going to actually be the ones who exercise the power to deal with Donald Sterling.
MKJ: It is true, Roland. Let me say one thing too on that player phone call that we had. Players that said clearly that they want a seat at the table and they wanna be able to weigh in on this process – they don't want to just be passive participants and let other people make decision without their voice being heard and it's that type of pressure and that kind of engagement that also lets the owners know what players are feeling. Secondly, the players have felt very strongly, whatever sanctions that allowed under the bylaws of the Constitution, that Adam Silver our new commissioner, has to do what is most severe and has to be very extreme in those sanctions and as a result, the commissioner has a responsibility to the League, to the owners and to the players. And to your point, the owners have to bear responsibility.
RM: Not only that, talking about the possibility of protests, I've already received e-mails from folks, Jasmine Kane, an activist in Los Angeles, she sent me a Tweet last night stating that there's going to be a Los Angeles Doing Better: The Donald Sterling Anti-Racism Protest and Rally taking place Tuesday, April 29th, at 5:30 p.m. Pacific at the Staples Center. They can expect — the NBA can certainly expect more of this, not just in Los Angeles, but probably across the country if they don't move swiftly to deal with Donald Sterling.
MKJ: That is the message the players had and I met with commissioner Silver yesterday privately. In addition, the players want a seat at the table and they said to the commissioner, we need to you move this forward swiftly and in a decisive manner because there's no way this distraction or this cloud is going to continue to hang over what we are doing unless you act forcefully and I really expect and anticipate him to do that in short order. I got a call yesterday from the people that are affiliated with State Legislatures in California, the black caucus and Isadore Hall and others. They want to protest and they were talking about boycotting. I said you know what, give us one day or two days so that ultimately, the Commissioner can weigh in and if those sanctions are severe and ones that are satisfactory, then great and we can go on with our business. If they fall short, we will talk about how we respond and how we react.
RM: We look forward to having you on again as the NBA tries to resolve this with Donald Sterling.
Source:  News One Now with Roland Martin.