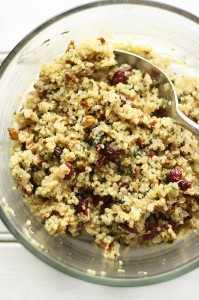 To kick off the holiday food fest, we invited one of our favorite chefs, Ashaki Tippins, to share her flavorful, healthy Thanksgiving menu recipes and tips, including:  The nutrition packed side dish, Cranberry Pecan Quinoa (a healthy staple of Andes in South America), Jack Daniels Turkey Glaze and Brine.
Tip: Preparing a turkey is very time consuming. Whether it's fried, grilled or roasted, Chef Ashaki, recommends brining is a sure way to boost flavor.  The result of brining is that  your meat stays moist, juicy and, keeps from drying out. Trust the chef on this when she says, " If your entertaining guests, they will be back for more!"
Cranberry Pecan Quinoa:
* 1 ½ cups quinoa
* ½ cup pecans
* 1 English cucumber, peeled and finely diced (2½ cups)
* (¾ cup) Cranberries
* ½ small red onion, finely chopped (½ cup)
* ½ cup chopped fresh parsley
* ¼ cup olive oil
* 3 Tbs. lemon juice
* 2 tsp. grated lemon zest
* 1 Quart Chicken Stock
1. Bring 2 quarts salted water to a boil. Add quinoa, cover, and reduce heat to medium-low. Simmer 12 to 14 minutes, or
until quinoa is tender and small "tails" bloom from grains.
2. Preheat oven to 400°F. Spread pecans on baking sheet, and toast 3 to 4 minutes, or until lightly browned. Cool, then transfer to large serving bowl.
3.Drain quinoa, and rinse under cold running water. Drain again. Add quinoa to pecans & cranberries, and
4.stir in cucumber, onion, and parsley. Fold in oil, lemon juice, and lemon zest, and season with salt and pepper, if desired.
Jack Daniels Glaze:
* 1 cup apricot jam
* 2 teaspoon(s) grated lemon zest
* 1 1/2 tablespoon(s) finely chopped sage (or powder)
* Kosher salt and freshly ground pepper
* 2 Tbs Brown Sugar
* 2 cups of Jack Daniels reduced (simmered down) by half w/ Brown Sugar.
To make glaze: In a small bowl, mix apricot jam, lemon zest, and sage and season with salt and pepper. Pour slightly cooled warm bourbon reduction over mix and whisk together.
When turkey is about 30 minutes out from being done, brush turkey with half of glaze and roast about 15 minutes, until skin is mahogany-colored. Brush turkey with remaining glaze and roast about 15 minutes longer, until skin is deep mahogany and an instant-read thermometer inserted between leg and thigh registers 165 degrees. Let rest before carving.
Brine:
* 1 cup kosher salt (Flavored Salt Optional)
* 1 cup brown sugar
* 2 oranges sliced
* 1 Tbs black peppercorns
* 1 Tbs allspice
* 6 sprigs thyme (dried Optional)
* 4 sprigs rosemary (dried Optional) To make the brining solution, dissolve the salt and sugar in 2 gallons of cold water in a bag, bucket or pot. Add the oranges, thyme, and rosemary. If using dried herbs, consider bringing solution to a quick boil (then cooling) to open up the flavors. Add oranges, herbs, and any other aromatics like cloves or sliced apples. When placing and covering the turkey, make sure that the liquid has filled the inner cavity completely. Soak overnight.
Recipes courtesy of Ashaki Tippins at California Kwik Chef.  For your catering needs visit:  http://www.CaliforniaKwikChef.com