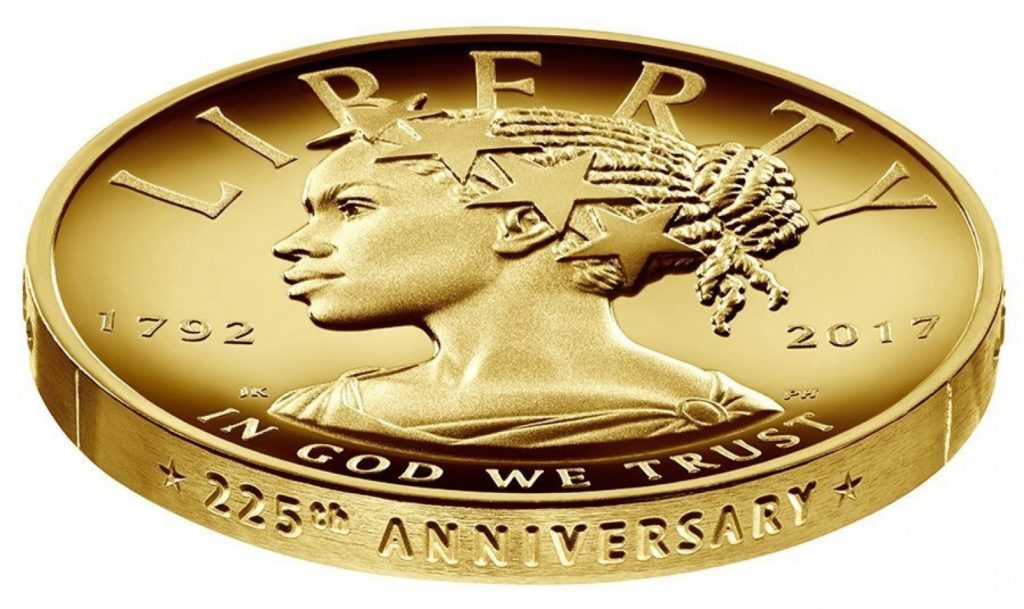 On Thursday, January 12, the 225th anniversary of The United States Mint,  a new Lady Liberty gold coin was unveiled featuring the image of an African- American woman.
For the first time in history, the coin depicts Lady Liberty, wearing a twist hair style pulled back in a crown of stars, and is inscribed with "1792," for the year the U.S. Mint was established, "2017" and "IN GOD WE TRUST."
Until now, Lady Liberty has been reserved exclusively for white women featured on American coinage since 1792.
Mint's 225th anniversary theme is "Remembering our Past, Embracing the Future."
Last nights unveiling kicked off a year-long series of events in celebration of the Mint's 225th anniversary in 2017 (#USMint225).
In a press release Rhett Jepson, the Principal Deputy Director of the United States Mint wrote:
"We are very proud of the fact that the United States Mint is rooted in the Constitution," said Principal Deputy Director Jeppson.  "Our founding fathers realized the critical need for our fledgling nation to have a respected monetary system, and over the last 225 years, the Mint has never failed in its mission."
The 2017 American Liberty 225th Anniversary Gold Coin is the first in a series of 24-karat gold coins that will feature designs which depict an allegorical Liberty in a variety of contemporary forms-including designs representing Asian-Americans, Hispanic-Americans, and Indian-Americans among others-to reflect the cultural and ethnic diversity of the United States.  These 24-karat gold coins will be issued biennially. A corresponding series of medals struck in .999 silver, with the same designs featured on the gold coins, will also be available.
The Mint will announce additional information about the 2017 American Liberty 225th Anniversary Gold Coin prior to its release on April 6.