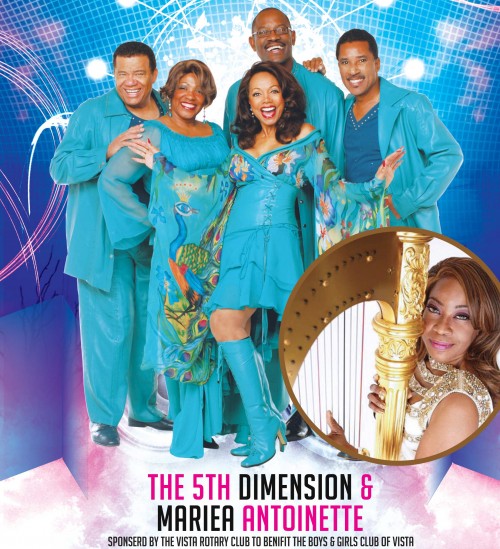 VISTA, CA –On Saturday, May 9, 2015, the award winning The  5th Dimension and jazzy soulful harpist, Mariea Antoinette performed for the first fundraiser hosted by the Rotary Club of Vista, the International Festival of Music and Arts.
The benefit concert held at the Moonlight Amphitheater at the Brengle Terrace Park, raised funds for the construction of a "Digital Arts Center" and,"Recording Studio" for the Vista Boys and Girls Club.
The outdoor venue was the perfect backdrop for engaging sounds and melodies of the opening act, the classically trained harpist, Antoinette.
Antoinette, showed her aptitude and masterful range by playing tunes made popular by Herbie Hancock, Jeffery Osborne and original scores from her second CD project,  "Straight from the Harp," which ranked at #18 on the Billboard Charts.
Followed by the talented harpist, the Grammy Award-winning The 5th Dimension, original member Florence Larue, along with Willie Williams, Leonard Tucker, Patrice Morris and Floyd Smith, clad in red and black took everyone on a trip down memory lane with classics unique to the group–"Up, Up and Away", "Wedding Bell Blues" and, "Aquarius/Let the Sun Shine In" plus more.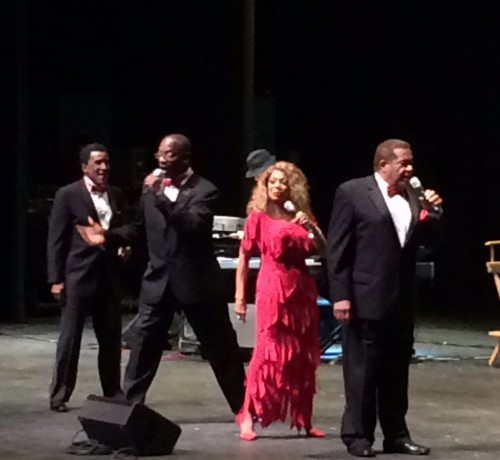 The energy onstage was infectious! It wasn't long after the timeless group hit the stage that everyone in the venue were on their feet dancing and clapping to their favorite tunes.
For more information on the Vista Rotary International Festival of Music and Arts, you can go to http://thevistapress.com/vista-rotary-international-festival-of-music-and-arts/#sthash.2gjAM37G.dpuf for more details.
Article/Review by:  Terri Fowler, M.A.N.D.A.T.E. Records