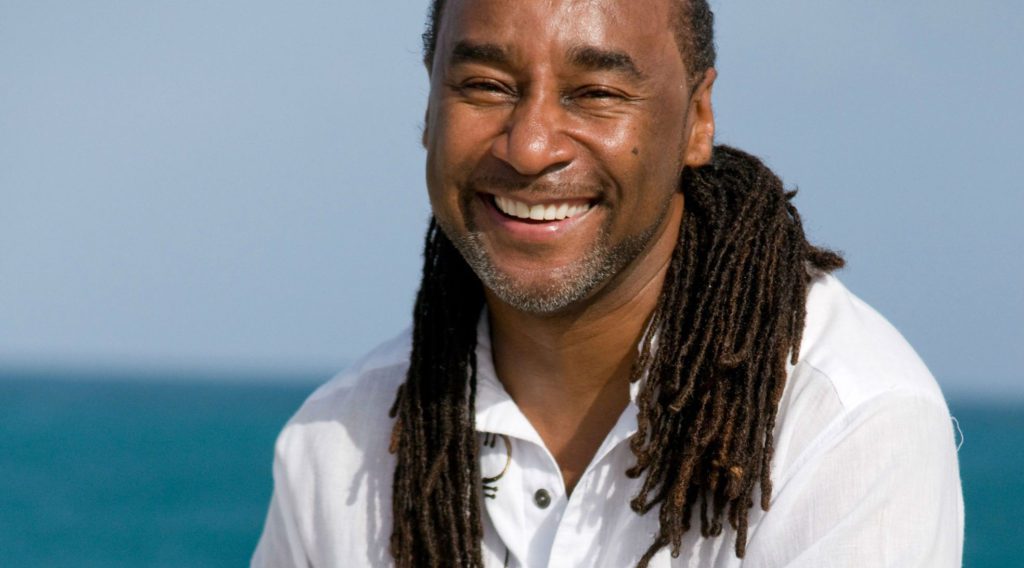 LOS ANGELES – New York Times best selling author Eric Jerome Dickey has been named the 2018 Distinguished Lecturer for the 12th annual Leimert Park Village Book Fair (LPVBF).  He will be honored at the literary event, which kicks off on Saturday, August 25, 2018 from 10 a.m. to 5 p.m. at the Baldwin Hills Crenshaw Plaza (BHCP), located at 3650 W. Martin Luther King Jr. Blvd. in LA. "Voted One of LA's Five Best Annual Book Festivals," the family-oriented event is held in the heart of Leimert Park, which is considered the center of the African American arts/intellectual scene in LA. Kristi Eddy, a children's author and the reigning Mrs. California, has been tapped as the book fair's ambassador.
Dickey is the author of 25 novels, more than a dozen of them becoming New York Times bestsellers, including  "Bad Men and Wicked Women," "Finding Gideon," "Blackbirds" "One Night," "A Wanted Woman" and "Decadence" – just to name a few.  He is also the author of a six-issue miniseries of comic books for Marvel Enterprises, featuring X-men's Storm and the Black Panther. His novel, "Naughty or Nice" has been optioned by Lionsgate Films. Dickey's books have consistently held positions on national and regional bestseller lists, including Blackboard Bestsellers List, The Wall Street Journal and The New York Times.
"We are absolutely thrilled and excited that Mr. Dickey is joining us," said Cynthia Exum, executive producer and founder of LPVBF.  "He is one of our shining stars in literature, and one of the most-read African American writers in the United States.  Avid readers and new fans alike will have a wonderful chance to meet and greet this great American author."
In addition to Dickey, the book fair will honor award-winning author Mildred Pitts Walter; restauranteur Gregory Dulan of Dulan's on Crenshaw; and bluesman Franklin Bell, the founder of Franklin Bell's Blues Workshop for their individual contributions to the community and worldwide.
With a theme of "Celebrating Our Southern Roots," this year, the bookfair will be held inside the mall to create a more intimate, "salon experience" of entertainment. In keeping with its theme, key offerings of the book fair include a Q & A discussion with distinguished lecturer Dickey; a panel discussion about the Great Migration of African Americans from southern states to the West; and a walking tour, mimicking the migration pattern of blacks, complimented by vintage, life-size photos of migrators. Plus, the African American Genealogical Society and the Family History Center from the Church of Jesus Christ of Latter-day Saints, will host a genealogy station for attendees to search their ancestral roots.
In addition, southern comforts and a Taste of the South will be offered, such as a gospel breakfast, featuring a performance by the Los Angeles chapter of the Gospel Music Workshop of America (GMWA) and southern fare for the authors, catered by Dulan's on Crenshaw. And for dessert, pie will be served! Along with other dessert delights from some of the most popular bakeries and eateries in town, including Shae Seward's Cobblemania, the 27th Street Bakery, Southern Girls Desserts, Gwen's Specialty Cakes and Marie Callender's Restaurant  & Bakery.
LPVBF will celebrate its 12th anniversary with interviews, booksignings, panel discussions, musical entertainment and a variety of activities for the entire family. It will also unveil its list of "20 Must-Read Books by Notable Southern Writers and Authors." Also, representatives from several colleges and universities, including Pepperdine Graziadio Business School (PGBS), Loyola Marymount University  (LMU/LA) and UCLA will be on hand to speak with attendees about their educational offerings. The book fair will end on a high note – that is, an old- fashioned jam session with Long Beach blues guitarist Bernie Pearl and guest performances by the Franklin Bell's Blues Workshop.
For more about the Leimert Park Village Book Far, visit www.leimertparkbookfair.com
The book fair is free and open to the public.