.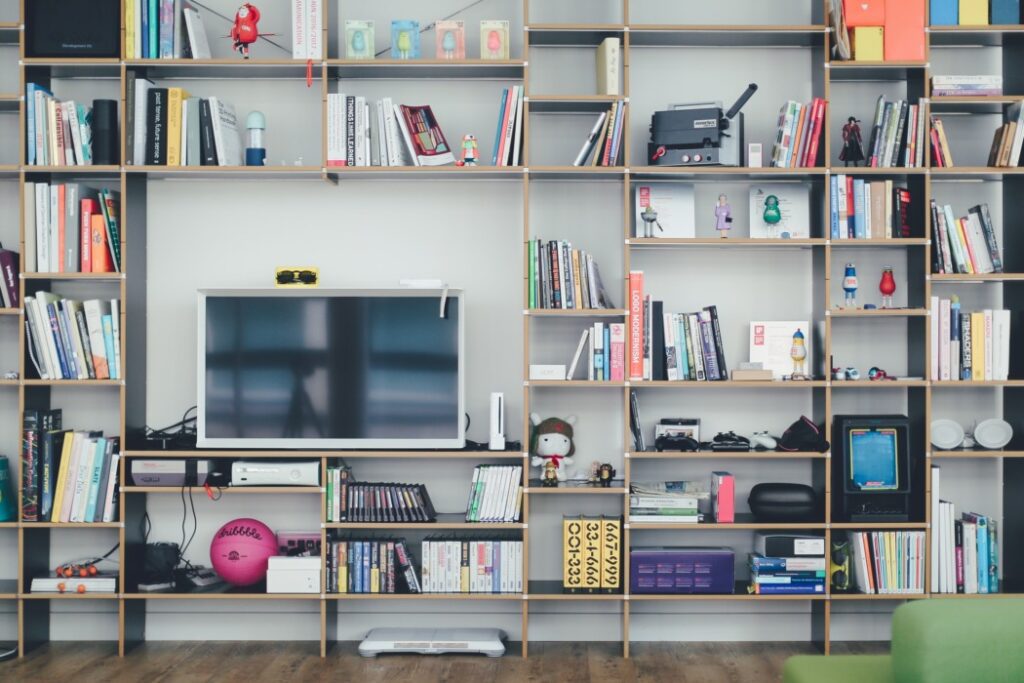 By Kevin Nelson
Many houses saved library collections that grandparents began to collect, passing the baton to the next generations. How to place a book heritage in the framework of a modern home? How to do it with the highest practicality, without forgetting about the aesthetic side of the issue?
A rare house has a separate room for arranging the library; the most common trick is placing book racks in the living room. Our publication is devoted to equipping a library in the living room, a crucial role in the formation of which is performed by book racks.
But this does not mean at all that a bookcase can be placed near any free wall: there are several nuances that must be taken into account by those who decide to put books in the living room. Stay with us and find out all the details.
Zoning:
Do you know that it is essential to choose a place to store books away from direct sunlight? Books cannot stand the sharp change in temperature and humidity that can occur when opening the window. They do not tolerate heat from the radiator. Floor-to-ceiling bookshelves can serve as a kind of soundproofing of neighboring rooms from noise in the living room. Besides, they ideally accumulate heat: if you install shelves along the cold wall facing the street, the room will become noticeably warmer.
Lighting:
It is also used as a zoning tool. Leave the leading overhead light in the "living room" part. In the library, there is enough floor lamp or a table lamp with a lampshade. Lighting must be adjustable; you will appreciate these library design ideas. Besides, arrange lighting on bookshelves to make it easier to search for books.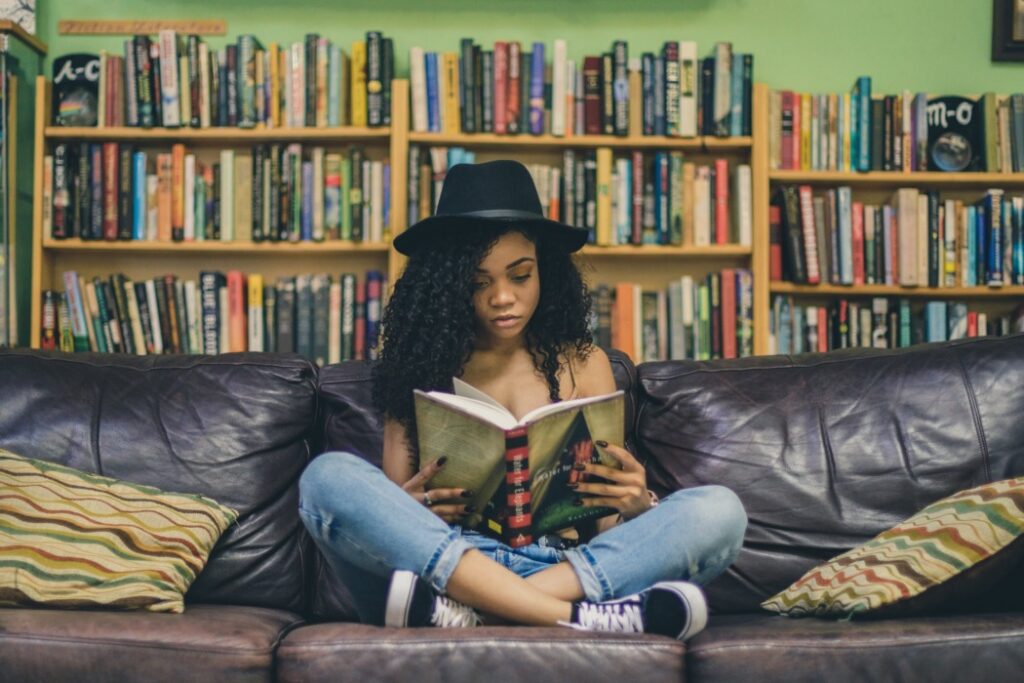 Color scheme:
Multi-colored book roots create a particular difficulty in choosing the color scheme of the living room library. Their variegation forces us to select plain coatings for walls and floors: you will have to abandon the flower wallpaper.
The most common embodiment of book shelving for the living room is snow-white. And there are several reasons: the white color gives the impression of cleanliness and freshness; even bulky designs look smooth and unobtrusive. With white shelving, you do not need to think about its combination with other color schemes in the interior.
Materials:
For decoration, choose materials, guided by the requirements of both the living room and the library area. In combination with books, noble fabrics look great: velvet, plush, linen. But do not forget that they, like carpets, collect dust. Replace them with a smooth curtain fabric, leather upholstery of sofas, and wallpaper without a pronounced texture. Use bright home library accessories instead. For the floor, choose a parquet board or laminate, and don't forget about using home care products to keep it in good condition.
In modern living rooms with a neutral finish, a large area, plain upholstery of furniture, and the same execution of window decor, often there is not enough warmth to create a more comfortable atmosphere. Wooden storage systems with their natural shades often "soften" not only the living room color palette but also bring a bit of calm and balance to the modern interior.
Furniture:
The style of library room furniture can be any. Book roots will fit into a high-tech living room, as well as classic or any other. In a typical apartment, storing a book collection on the shelves of ordinary cabinets is irrational. Ready-made racks are inconvenient because their standard depth and height of shelves usually do not correspond to book formats. Therefore, it is better to make racks or cabinets in a carpentry workshop: save precious "centimeters" of space. Depending on the role of the library in your living room, frames can either match the color of other cabinet furniture or stand out.
Built-in storage systems for books, CDs, and other trifles important to the owners are prevalent, including the design of the TV zone and its associated attributes. The result is a harmonious alliance of storage systems and a very roomy, practical, and functional symbiosis of furniture and appliances.
Conclusion
Paper books bring the charm of intelligence and beauty to any interior. A small library is a compact storage for books and an excellent opportunity to show decorating talents.
A library in a living room is most often just a place to store books or an element of decor. For a meaningful reading, the standard room can be quite noisy: you always need another location or a corner where you can rest with a book. The living room is a place where your friends or relatives can spend some time without you. So that they do not get bored, interest them with colorfully illustrated albums. Books will immediately attract the attention of those entering if you choose unusually inclined shelves for them.
Do you have any ideas for making a library in the living room? What is your favorite library in the living room design? Please share your experience with us in the comments below.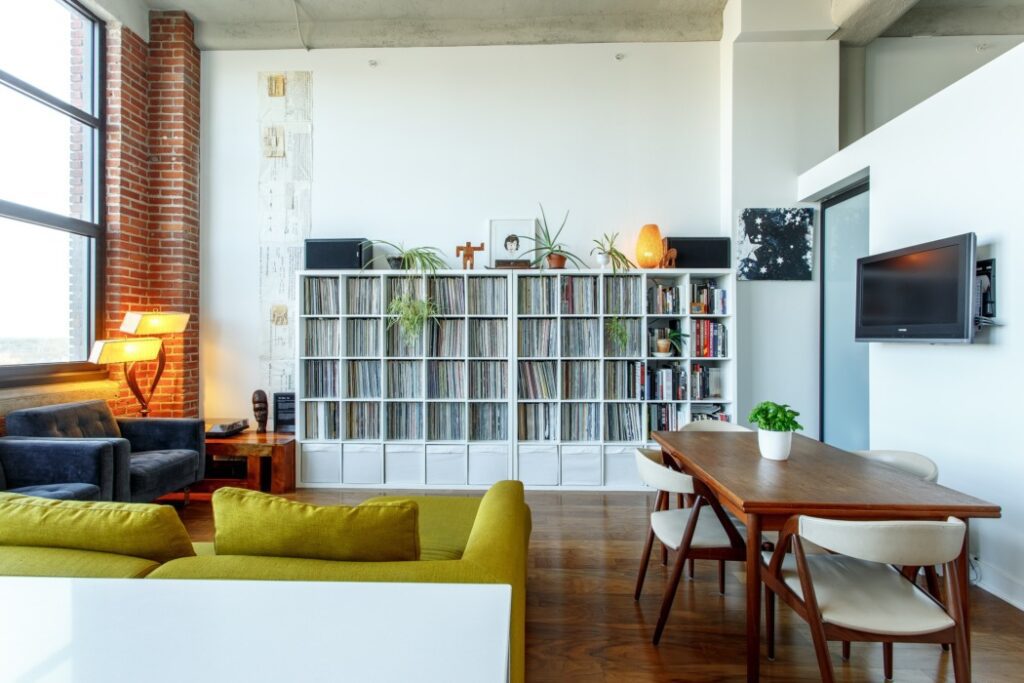 Author's Bio:
Kevin is a content writer for about 3 years. He studied Design and Arts at College in Pennsylvania. A fan of home interior design and, he has taken it upon himself to spread his love for decorating homes by informing people on some of his ideas through his articles.