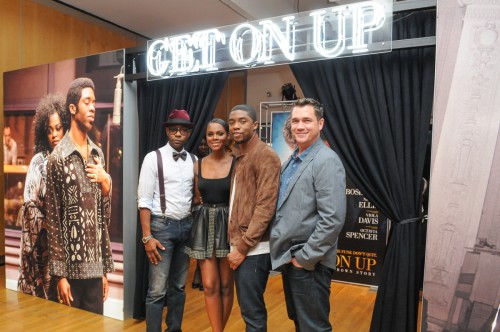 Universal Pictures' held the official press conference for James Brown biopic GET ON UP  this past week in New York City. Press received the opportunity to interview the films cast including 42 star Chadwick Boseman, Academy Award winning actress Octavia Spencer, Grammy Award winning artist Jill Scott, True Blood actor Nelsan Ellis, Rolling Stones founding member Mick Jagger, director Tate Taylor, actor Dan Aykroyd and producer Brian Grazer.
Chadwick Boseman explains that it wasn't easy playing James Brown, "60% of my fear was from the dancing, 30% of it was just the caricatures that have been projected of him and just trying to get past what people think they know."
Jill Scott and the films co-producer Mick Jagger, talk about their first time hearing James Brown and how it made them feel:
"I remember something in me stood a little bit higher, I puffed my chest out when listening to that song," says Scott after hearing 'I'm Black and I'm Proud' for the first time.
"The 'Live At the Apollo' Album was my kind of real introduction into James Brown, I loved every tune in it." says Jagger.
Director Tate Taylor shares:
"What reigned supreme for me was what that after talking with his family, James may not have had a profound way to articulate music, he spoke about music from what feels good.  He would explain emotionally to his band, and that is what makes him genius."
Producer Mick Jagger and actor Dan Aykroyd share the importance of a James Brown biopic.
"This is a bit more than a generic biopic. It's the compelling nature of a story of adversity and how James is almost obsessed with making himself into somebody from nothing and, the price he had to pay for his single minded drive to become somebody.  People from different backgrounds and age groups, all know James Brown. He's apart of our musical history."
"It's a social viral world. As far a connecting with this generation, once the film comes out young people will really get it about James Brown."
The film also stars, Craig Robinson as Maceo and  Academy-award nominee Viola Davis, who is cast as Susie Brown, James Brown's mother.
To hear the press conference in its entirety click here to Listen.
GET ON UP is scheduled to premiere on August 1.