(Chula Vista, CA) The classic proverbial phrase, "When life hands you lemons, you make lemonade," has been revitalized by first-time business owners Hortenssia and Juan Zatarain (husband and wife), who use the lemons to create something sweet like lemon cupcakes, one of the many featured flavors at Love Cupcake Café, Otay Ranch's newest sweet spot.
35-year-old Hortenssia's story began two years ago, when formerly a CBP officer for U.S. customs, she eventually moved on to be a Human Resource Manager for an auto auction company where she was laid off.  Determined not to become a victim of a struggling economy, she took matters into her own hands.  "I always enjoyed baking," she explains.  "I would spend my days baking for fun, and on occasion I would send cupcakes with Juan to share with his coworkers."
The cupcakes became a big hit! Juan's coworkers fell in love with her baking.
Although Hortenssia admits to always having a love for baking, she says she wasn't aware that her cupcakes were that good.
Encouraged by the overwhelmingly positive response from Juan's coworkers, shortly thereafter, Hortenssia enrolled in a pastry chef school to enhance her decorating skills. While in pastry chef school, she ran into her uncle Raul, (her Dad's brother) with whom she hadn't seen in years, primarily because she grew up with her mother's side of the family.  Raul tasted her cupcakes and, commented that she should open up her own business and, said he would invest.  At first she didn't take him serious, until he let her know he meant it.
The Chula Vista resident shared with Raul how getting a business loan turned out to be more challenging than they had hoped for, despite having good credit.  Banks would repeatedly deny their loan applications, unwilling to take a risk on first time business owners.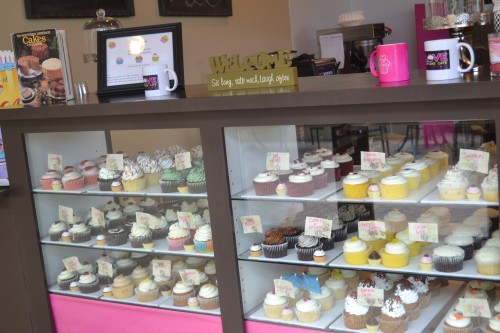 Instead, family, friends and Juan's coworker became their investors. Eventually, a location, which was also a challenge, came through, and things started coming together.
Decorated tastefully by Hortenssia, the inside of Love Cupcake Café features high ceilings, soft lighting and decor that welcomes customers as though they are inside somebody's home.
Love Cupcake Café held its grand opening on May 26, 2013, and business for Eastlake/Otay Ranch's first cupcakery has been growing steadily ever since.
Hortenssia reports that the shop sells approximately 600 plus cupcakes daily.
According to the new business owner, the shop's best seller is the carrot cupcake, in which she said she uses real European butter and other fine ingredients.
Hortenssia's favorite cupcake to make is the Lemon Chino cake, a cake named after her grandfather, and the 24k Gold cupcake.
Our favorites are red velvet, lemon and carrot. Delicious!
Overjoyed with the bakery's success, Hortenssia tears up over how grateful she is for being a business owner.
The Zatarain's are a wonderful example of what can happen when you choose optimism in the face of adversity.
The Love Cupcake Cafe is located at 2110 Birch Rd, Chula Vista near Oggi's Pizza and In and Out Burger.