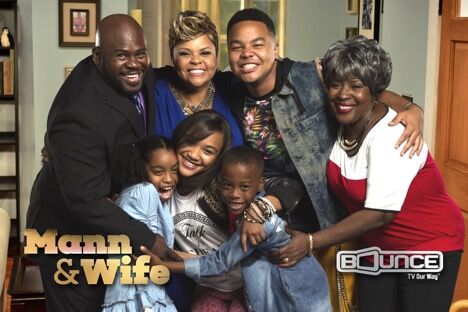 After a successful first season on Bounce T.V.'s highly rated series Mann & Wife, David and Tamela Mann are thrilled to be back with more laughter in Season 2.
As executive producers of the show, Tyler Perry Alumni-David Mann (Meet The Browns) and Tamela Mann (Madea's Big Happy Family) star and serve as executive producers of Bounce T.V's most watched comedy series, Mann & Wife in the history of the network.
The series is set in Atlanta and follows husband and wife, Daniel & Toni played by Tamela and David Mann as newlyweds who laugh and love their way through life's ups and downs as they blend two families together. Daniel's character is a detective who works along side his funny partner Michael, played by Tony Rock. The pair faces some crazy situations that will have you rollin'!
Toni's character, played by Tamela Mann is a teacher whose stepson just happens to be one of her student's. Awkward, right?
In a media teleconference the talented husband and wife, along with cast member and veteran actor Jo Marie Payton and Executive Producer, President and CEO of Bobbcat Films, Roger Bobb were all on the call to share their lively perspectives on the show.
David, expressed his love for developing a character like Daniel that can grow. Especially now, since he's playing a husband that can actually touch Tam, as he affectionately calls his wife (Tamela) in the way he wants, as opposed to her character Cora, who played his daughter in "Meet The Brown's." Besides that aspect of the role, he enjoys playing a detective, a character that he can bring the intensity while still being funny but, just not as over the top funny as Mr. Brown.
Mann played the character Mr. Brown for 140 episodes.
Tamela inserts that she's happy to be apart of Bounce T.V. programming because of its wonderful family content. She says, "Anyone can watch without having to cover your eyes and ears." She also shares her appreciation that the show addresses dealing with a blended family on a daily basis that is making strides to turn it into a seamless family, which is something that can be quite challenging.
On the show Vivica A. Fox has a recurring role as Daniel's first wife Michelle who adds quite a bit of  spice to the family blend.
Speaking of spice, don't you just love Jo Marie Payton as the dicey Harriet Winslow on the sitcom Family Matters? We certainly did. Well, she's back starring as Lorraine Mann, Daniel's overbearing mother, in Mann & Wife. Lorraine is an intricate part of the show particularly since, Toni had no idea that her mother in-law was going to be living with the family full time. Jo Marie Payton, says her character is devilishly sweet. She say's that this is the best role that she's ever played and she loves the way Daniel (David Mann) calls her mama. She also expresses her admiration for David and Tamela's balance in their relationship on and off camera.
Executive producer of the show Roger Bobb shares that the recurring theme of the show is family, faith, friends and forgiveness. He says that although the series is a comedy, viewers get two sitcoms in one.
Season 2 has some exciting guest appearances including this Tuesday's all-new episode featuring Elise Neal, who guest stars as a sexual harassment training instructor who makes a move on Daniel (David Mann).
Also guest starring in season 2  is the talented comic Cocoa Brown.
The Mann kids are played by Steven Wash (Daniel, Jr.), Amir O'Neil (Darren), Lauryn Kennedy Hardy (Terri) and Jadah Marie (Tasha). John Marshall Jones joins the cast as Daniel's new Lieutenant.
Be sure to watch an all-new episode of Mann & Wife on Tuesday, May 24 at 9pm ET / 8pm CT on Bounce TV.
Bounce TV is the fastest-growing African-American (AA) network on television and airs on the broadcast signals of local television stations and corresponding cable carriage. The network features a programming mix of original and off-network series, theatrical motion pictures, specials, live sports and more. Bounce TV has grown to be available in more than 93.5 million homes across the United States and 93% of all African American television homes, including all of the top AA television markets. Among the founders of Bounce TV are iconic American figures Martin Luther King, III and Ambassador Andrew Young.