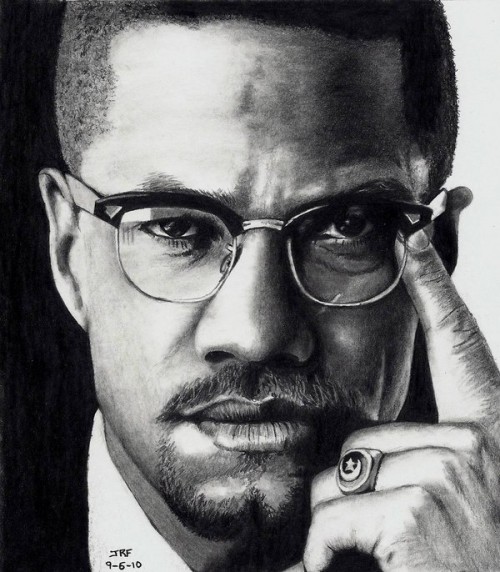 May 17, 2015 (New York, NY) –  This Tuesday May 19th, the 90th anniversary of the birthdate of El Hajj Malik El-Shabazz, Malcolm X, will be celebrated at The Malcolm X and Dr. Betty Shabazz Memorial and Educational Center in Harlem, New York (165th and Broadway).  This wonderful birthday celebration, which is free and open to the public, will feature a short creative program and bring together leaders and community members to reflect, celebrate and commemorate the life of a visionary man whose legacy continues to inspire and instruct.
Malcolm X's 90th birthday comes at a time when our country is grappling with the crisis of police violence, with cities rising up to demand with no uncertainty that black lives matter. "My father was a man who fiercely loved his people and fought for justice locally and internationally," said Malaak Shabazz, daughter of Malcolm X.
The event is designed to be upbeat and inspirational while also respecting the legacy of Malcolm X.  "Malcolm X spent his life seeking the oneness of humanity with compassion and integrity and he gave everything he had to the pursuit, losing his life in the process.  We will come together to celebrate him, to remember him, and to recommit ourselves to the ideals that he lived by."
"Brother Malcolm was a courageous man who lived a visionary life," added Londell McMillan Chairman of The Source Magazine.  "As much as he was committed to condemning and prosecuting injustice, he smiled often. This Tuesday we'll smile with him as we celebrate the incredible life that he lived."
"Justice League NYC is proud to join in these festivities commemorating the life of Malcolm X.  We remain grateful to the lessons that Malcolm X taught us especially as we find ourselves leaning on his council as we work to fight for absolute equality and the recognition of our humanity.  The crisis of police violence and the impacts of state oppression on black and brown communities are not new. The one-sided coverage of the media is not new.  Malcolm X saw the world and spoke truth to power, his sentiments remain relevant today and his words and ideals give us guidance. As we celebrate his life we also remind ourselves that he was a young man who achieved great things.  Malcolm X's legacy inspires us to seize responsibility for our circumstances and to work together to improve the conditions of our people."
Program begins at 6pm and will be followed by a party from 8pm-11pm.
The event will feature music by the legendary DJ D-Nice and will be hosted by The Malcolm X Foundation, X Legacy, The Source Magazine, and Justice League NYC.
While the event is free and open to the public, donations to X Legacy or the Malcolm X Foundation are welcome.