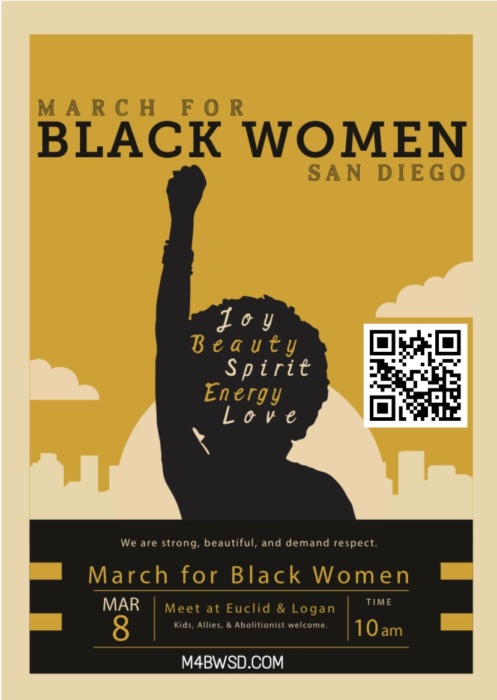 ON MARCH 8TH, WE HEAL, WE MARCH, WE THRIVE! 
M4BWSD, in solidarity with accomplices and allies, marches for a better San Diego for Black womxn centering racial justice, economic power, health equity, and social sustainability to create a better San Diego for Black womxn that will be a better San Diego for all!  
SAN DIEGO, CA – In 2017, Black Womxn in San Diego, led by Nyisha Green-Washington were inspired by Black Womxn's Blueprint National Call to Action to march and meet to lift up demands for racial justice, economic power, eradication of violence and incarceration for Black womxn.
We held our first town hall in September and had to hold another due to the demand by Black womxn to be in community with one another. At our second convening, we decided that we wanted to march to uplift our demands.
In 2018, we held our first march and 100's attended. In 2019, Kelsey Daniels founded and organized a summit called Black Womxn Save My Life, to connect, heal, and strategize around the demands. The day after the summit, we marched again and even more people attended. M4BWSD will continue to march, organize and advocate until our demands our met.
The March for Black Womxn seeks to uplift the needs of Black womxn in San Diego in order to find solutions and healing. 
Marchers have the following demands:
"This march is about saving and centering ourselves." said Kelsey Daniels, co-organizer of March For Black Womxn. 
Demand 1: Acknowledge and challenge centuries of abuses, that is still happening, including sexual violence, and reproductive violations against black bodies, especially the brutalization of trans Womxn, black girls, ALL BLACK WOMXN.
Demand 2: Cease and desist all threats of incarceration, incidences of rape and sexual misconduct, police murder, violence against black Womxn, especially trans Womxn and deportation of immigrant Womxn across the country, especially those whose deportation may cost them their lives and safety
Demand 3: End the threat to the human right to healthcare and increase access, including reproductive healthcare, bar none!Demand 4: Ensure economic justice for low-income Womxn at the communal and federal level, many of whom are at increased risk of violence due to lack of economic power. Event organizers will develop strategies to meet the demands above in the coming years through organizing, community building, policy, and advocacy on the municipal and county-level. 
 Rally and March for Black Womxn, followed by a closing program will commence on Sunday, March 8, 10:00 AM – 1:00 PM 
DETAILS: 10:00 – 10:45 am – Rally @ Euclid & Logan, San Diego, CA 92113.  From 11:00 – 12:00 pm – March  from Euclid and Logan to Kennedy Neighborhood Park. 12:00pm-2:00pm – Closing Program Artists and Speakers @ Kennedy Neighborhood Park  4825 Ocean View Blvd, San Diego,
FACEBOOK EVENT https://www.facebook.com/events/s/march-for-black-Womxn-san-dieg/1059242464425526/ WEBSITE:https://www.m4bwsd.com/CA.