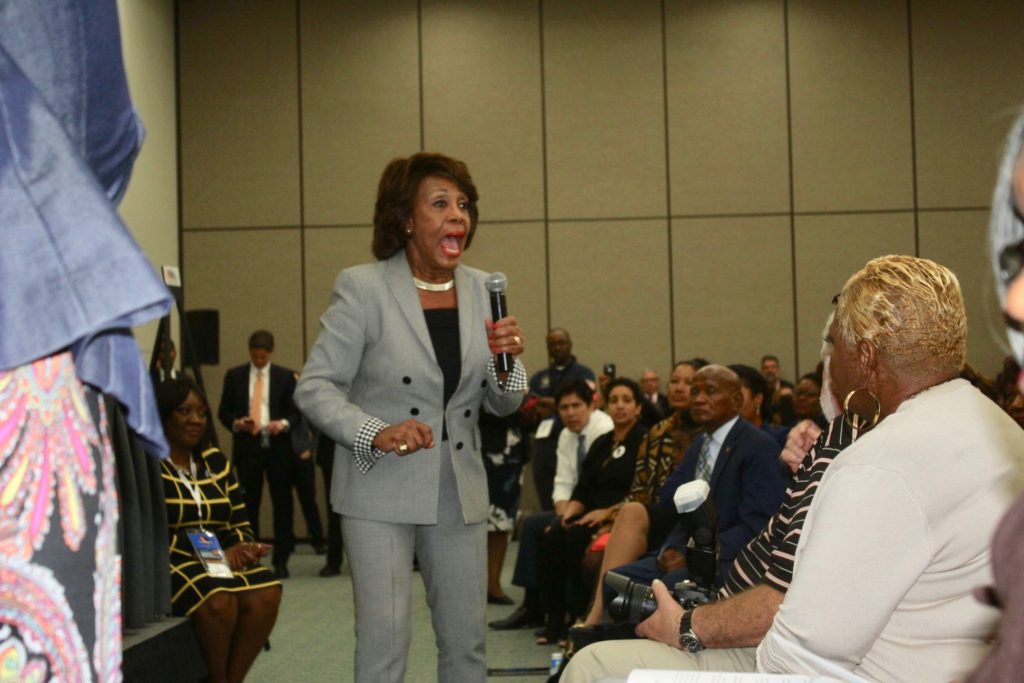 Photo credit:  Rose Davis, Indian Voices
(San Diego, CA) Thousands of party activists came geared up for the annual California Democratic Party convention held February 23-25. Most of the weekend was centered on opposition to President Donald Trump. Among those speaking out against the current president at the African American Caucus, came as no surprise was Rep. Maxine Waters (D-Calif.)
Waters tells her fellow Democrats to "Get ready" for the impeachment of President Donald Trump. "I cannot wait, and I'm counting on Special Counsel Mueller to connect the dots."
Speaking at the California Democratic Party's African American Caucus on Saturday, Waters said that she believes Special Counsel Robert Mueller is getting closer to discovering which Americans "were and are involved in collusion with the Russians."
"I say it is time to get ready for impeachment," Waters said to raucous applause. "I cannot wait, and I'm counting on Special Counsel Mueller to connect the dots."
"Democrats, I don't care what the Republicans say. I say impeach 45!"  Waters exclaimed, "the Russians undermined our democracy."
More than six months after she cut off Treasury Secretary Steve Mnuchin during a committee hearing and said, "reclaiming my time,"  repeated the same words, and explained why the phrase touched so many people.
"The reason that "Reclaiming My Time" has touched so many people, inspired so many people, because all of sudden many folks realize that they were not doing what they could do. That they were not receiving the blessings that they should be receiving, and that they were not sharing of the fact that they have talent, and under utilized. All that I'm hoping to do at this point, is to say to each of you, it's time for you to "Reclaim Your Time."
Click here for CDP-Endorsements-Statewide Results 18-02-25
For more information on the CDP's endorsement process, visit https://www.cadem.org/vote/endorsements
For info on African American Voter Registration, Education & Participation Project visit AAVREP.Org.