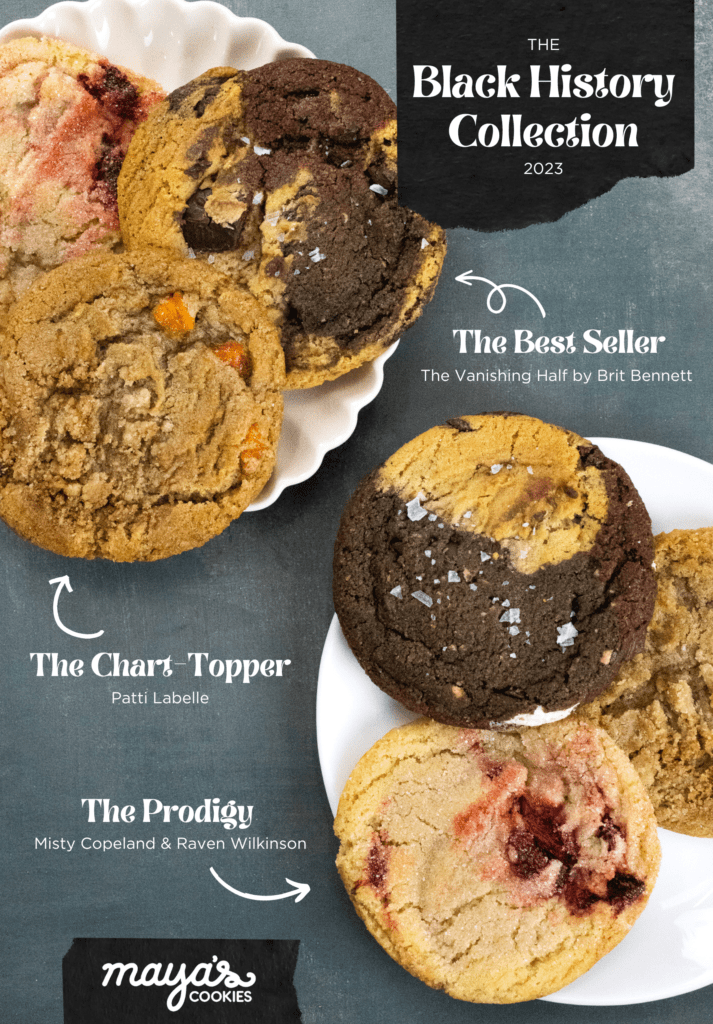 ---
Black History Month, Black-Owned, Female-Owned and San Diego favorite, Maya's Cookies has announced the 2023 Black History Month Collection.
"This year's collection is an ode to the arts and my way of honoring the contributions of countless Black women breaking barriers in the literary arts, world of dance, music industry and beyond," said Maya Madsen, CEO & Founder.
Each cookie tells the stories of remarkable change makers and features ingredients from fellow Black-owned, woman-owned small businesses that I love.
From our friends at Trade Street Jam Co., making vegan, low-sugar jams with unexpected flavors to Kanda Chocolates, whose owner is providing jobs by sourcing straight from Ghana, the collection is a celebration of Black, female excellence – past and present."
The Black History Month Collection includes:
The Prodigy: Inspired by Misty Copeland, her mentor Raven Wilkinson and the trailblazing Black women making history in ballet and the dance arts. The Prodigy sparkles with flavors of bubbly champagne, fresh strawberries and dazzling sparkle sugar.
The Prodigy features Demi-Sec Champagne from Black-owned, woman-owned Stuyvesant Champagne.
The Chart-Topper: Inspired by the Godmother of Soul, the Chart-Topper is a tribute to Ms.Patti Labelle's famous pies and cobblers. This cobbler-inspired cookie turns up the volume with a harmony of Smoked Peach Jam, real peach pieces, and a cinnamon brown sugar crumble.
The Chart-Topper features Smoked Peach Jam from Black-owned, Brooklyn-based Trade Street Jam Co.
The Best Seller: The Vanishing Half tells the tale of twin sisters, inseparable as children, who ultimately choose to live in two very different worlds, one black and one white.Taking inspiration from the novel's front cover design as well as the duality of the main characters, The Best Seller marbles together 3 unique flavors: Red Velvet, Brown Sugar Chocolate Chunk and Salted Caramel Fudge.
The Best Seller features Vegan Dark Chocolate from Kanda Chocolates, a Black-owned, woman-owned company sourcing straight from Ghana.
The 2023 Black History Collection will launch January 24th, 2023 at MayasCookies.com. Find out more about Maya's Cookies on Instagram and via the website.
---